Inside Workable: Scaling a sales team successfully
Imagine you've just been tasked to build out your company's sales team. Hiring one great salesperson is something you've probably done in the past, and you're proud of it too. But now you have to find and hire 14. In one month. At the end of the year. In the middle of Christmas vacation.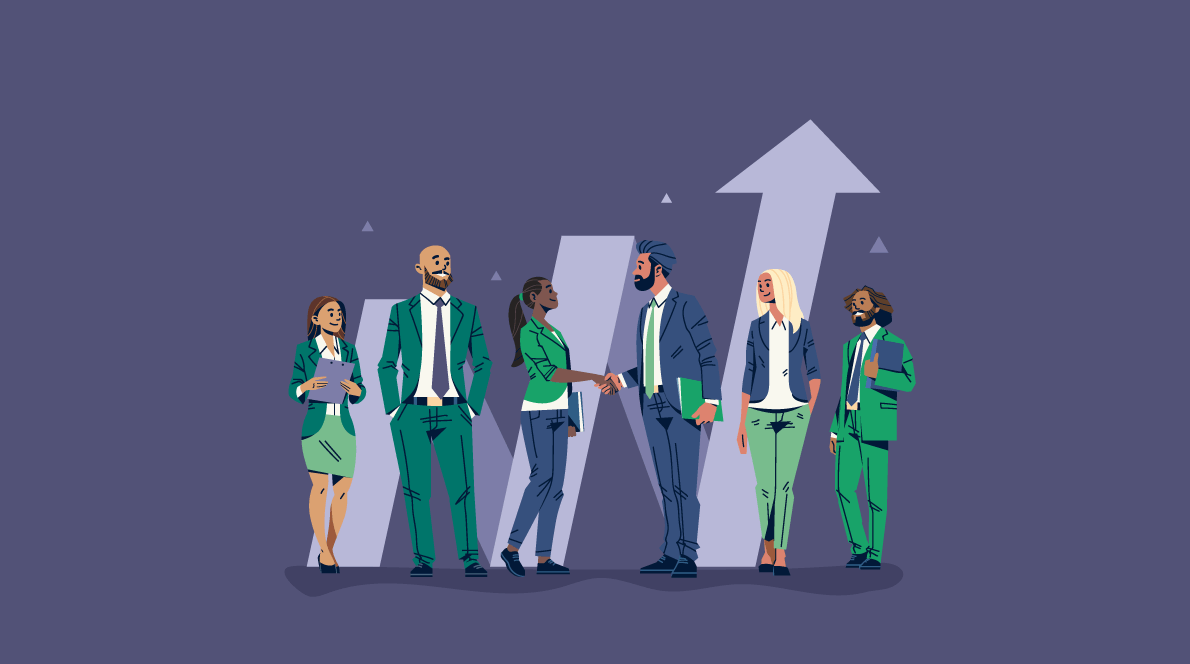 It's not the easiest situation, but that's where the sales team at Workable was at the end of 2018. Georgios Gatos, VP of Growth, and Athina Pitta, Sales Development Manager, wanted to double the team's headcount in one month, but also, not to miss a beat with their current team members. And, then, do the same a couple more times throughout the year, as their plan was to hire a total of 50 new employees in 2019.
If you're a recruiter, rapid scaling may be a creative challenge for you – nevertheless, it's still a challenge. But, if you're a hiring manager and need to grow your team fast while maintaining your regular workload at the same time, the burden can be heavier.
Whether you're a small startup on a growth track or a company taking on a large project, this scenario can be all too familiar. Scaling a sales team (or any team) is like a race: you need to attract, find and evaluate candidates fast, without sacrificing on quality.
We sat down with Georgios and Athina to learn about their own experiences in doing so, and they walked us through how they managed to turn what seemed like an impossible task into a successful recruiting process.
Plan before you act
When you're scaling a sales team fast, the key, according to Athina, is to have an intake meeting at the beginning of the hiring process. In their case, the two hiring managers, the recruiter and the HR manager, sat down together to discuss:
Qualification criteria: What's the profile of our ideal candidate?
Hiring process: How will we evaluate candidates?
Roles within the team: Who's responsible for each of the hiring stages?
Athina notes that this simple, yet important, process ensures that everyone is on the same page and saves a ton of needless back-and-forth communication later in the process.
"Of course, we have catch-ups in between hiring stages to make sure everything goes as planned," she clarified. "But it's never about 'Hey, did you see that application?' or 'How did your interview with that candidate go?' If we all know our roles and responsibilities, we don't have to spend time sending emails to each other, asking for interview feedback or scheduling meetings."
Georgios emphasized the importance of planning the hiring process as early as possible: "For us, this was translated into an impressive conversion rate:"
We hired one person for every 20 applicants.
"Think about it; if you don't discuss what kind of skills you're looking for and if you don't craft a job ad that reflects these exact requirements, you'll get candidates who don't fit in your role. And then you'll have to screen their resumes, realize they don't qualify and reject them. You can save all this time with a carefully planned hiring strategy."
Expand your candidate sources
So, how are we going to find these candidates? That was one of the main concerns across the team. It's easy if you want to hire one person and you don't have a tight deadline, because you can rely on a 'post and pray' method. But that's rarely the case for most hiring teams. Never mind a scenario where you need to find – and hire – more than 10 people in a single month.
That's when you realize that you also need to look in different places for your candidates. "Job boards are the number one place you go to hire," Georgios said, "but that's not enough when you're scaling fast."
We find about half of the candidates we need through job boards. This means that the rest of them are using different channels for their job search.
The following graph shows how the team used a mix of sources to find qualified candidates: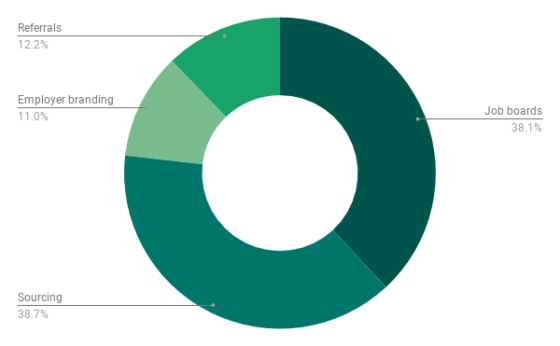 Notes:
1. Job boards include both popular job sites (e.g. Indeed and Glassdoor) and applications from other websites, such as Google
2. Sourcing includes Facebook campaigns, job fair recruitment and reaching out to passive candidates
3. Employer branding includes applications through Workable's careers page
4. Referrals include candidate recommendations from current employees
From word of mouth…
"We tried out employee referrals. We've always encouraged our colleagues to recommend good candidates," Athina explained, "but, this time, we organized it a bit better. We used Workable's Referrals platform to make it easy for everyone to refer someone they know. They don't have to do much: a link to the candidate's LinkedIn profile is all it takes. And then we'll do the rest."
Referrals give you exposure to new, untapped talent, according to Georgios. Candidates who come via referrals are often people who might have not been actively searching for a new job through job boards or people who wouldn't consider a career in sales unless they knew someone who already works in the company.
We wouldn't find these [referred] candidates otherwise.
Employees refer good candidates because they want to work alongside smart, competent people. But sometimes you need to give them an extra incentive. That's why Workable's sales team decided to add a cash bonus for successful referrals that motivates employees to look into their network and find people who'd fit in the team.
Athina gave an example of how a referral bonus can result in a pool of great candidates: "Some employees now refer three or four people, because they know they'll win too if some of them get hired. This means that they may have shared the job ad with 10 people in total. That's the benefit of this digital version of word of mouth. Even if these people are not interested now, they learn about our company and job opportunities and might apply in the future."
"Or, if we take it one step further," Georgios added, "one employee shares the job ad with 10 people, each of those 10 people knows 10 more and so on. Somewhere among all those people, is our next hire. Even if they're not a direct referral, it's our referral initiative that got them to our doorstep."
… to social media dominance
Social networks bring you closer to numerous potential candidates, particularly those who don't visit job boards or those that you can't physically meet at a careers fair if they're currently in a different location. Facebook and LinkedIn are places where you can find them.
But the power of social media – the large number of people who are online every day – can also be a disadvantage for hiring teams. How will you make sure you're not casting a wide net? How will your job ad stand out?
"We can't approach social media just like job boards – i.e. share our job ad and hope that interested candidates will see it," Georgios said. "We need to be more strategic. So what we do is target candidates who have relevant skills and display our job ad only to them."
Athina added that widescale social media posts are incredibly helpful for hiring large-scale teams in such a tight schedule.
"This is a time-saver," she said. "Both for us, the hiring team, because we reach out to people we know they have the skills we're looking for, and for candidates, too, because they can apply with one click.
"And this makes the entire process move faster. When candidates can apply in just a few minutes and without leaving the "space" where they are (call me Facebook), this means that we get their applications sooner and we don't lose those great candidates to competitors."
Get your team together
You can't hire on your own. That's a fact. But you can't hire at this speed even with a team, unless all members are synced together. "Synced" doesn't necessarily mean meeting every day or every other day. In fact, in Georgios and Athina's case, it was quite the opposite:
"We didn't talk unless we had something to say," Athina admitted. "This doesn't mean we didn't know what's going on in the hiring process; on the contrary, at any given time, we had access to the candidate database, we could see the hiring stages with all the relevant information such as how many candidates were in each stage, if we've been in touch with them, etc. This way, I could get the information I needed at the time I needed it, without having to reach out to Georgios who might have been at a meeting or out of office."
Georgios also noted the importance of having visibility and keeping everything in one place: "For example, if I see that Athina has scheduled five interviews on Monday, I know that if I log into Workable on Tuesday, I'll find feedback on how these interviews went and I'll instantly decide on next steps. When your time to hire is limited, you want to save time anywhere you can."
Don't give up quality over quantity
Often, there's an easy way to do things: you could post a job ad to the most popular site, schedule interviews with the ones who meet the bare minimum requirements and hire the best of them – or at least the ones who'll accept your offer. There you go, you've hit your hiring target. No sweat, right?
Georgios disagrees. The 'easy way' isn't always the right way, and he made that clear. "We don't want to just fill positions. We want to hire the best; those who'll like the job and be good at it, will help us reach our business goals and stay with us in the long run."
If you don't evaluate candidates properly, you'll soon find yourself having to start the hiring process all over again – particularly as candidates come to realize that you weren't a good fit for them either. So, how do you thoroughly evaluate candidates when you're short on time? And it gets even more challenging, considering you're scaling a sales team, where you don't necessarily pick candidates based on typical requirements and traditional career paths.
"It's important to use the right assessment methods," Athina said. "Each step of the hiring process should teach you something new about the candidate, something that'll be definitive about their ability to do the job. You need to dig deeper into candidates' skills and professional interests if you want to make sure you hire people based on job-related criteria and not on personal biases."
But that's the tricky part, according to Georgios, who explained how you can be objective when you evaluate candidates, and fast at the same time.
"We've found one-way video interviews very effective in our case: candidates present themselves and answer a few basic questions that'll help us identify dealbreakers. We can review those videos in our own time which gives us the freedom to organize our schedule as we want. For in-person interviews, we share our calendar with candidates and they book a convenient time for themselves, so we don't have to do this manually or send back-and-forth emails for every interview."
Not only is it a major convenience for the hiring team, having such a smooth and speedy process also boosts the candidate experience, as Athina explained:
"We know that candidates are turned off when they don't hear back from you promptly or if you seem disorganized," Athina said. "But, it's a lot to take when you're hiring at this scale. It's not uncommon to forget to send an email or to show to an interview unprepared when you have back-to-back meetings. That's why we rely a lot on bulk emails, templates and automated notifications."
Without automation tools, we'd need one person in the team to exclusively contact candidates.
With those handy tools, Georgios and Athina were able to more efficiently move candidates through each stage of the recruitment pipeline without wasting any valuable time on manual tasks – a more impressive feat considering they had to fill 14 positions in a short time from a total pool of 362 job applicants: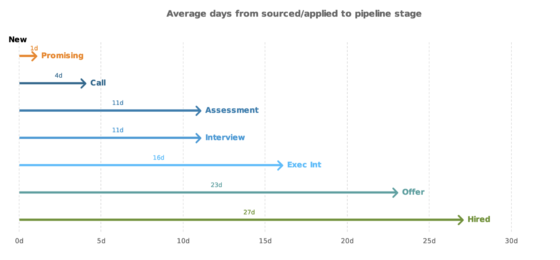 Athina added that having an ATS to keep everything in one place was a huge asset to the process: "We have access to all candidate information (resume, assignment, contact details, communication history) at any time."
Build for the future
Finally, Georgios mentioned that quality hiring means knowing what works for your team and what doesn't.
"We wouldn't know, for example, that employee referrals are among our most effective recruitment strategies, unless we measured how many candidates come from each source. We keep track of all important recruiting KPIs and use this historical data for future high-volume hiring rounds."
"The next time we scaled up our sales team, we managed to hire 15 new team members again in one month, but it felt much smoother, because we knew exactly how to do that," Athina concurred. "And now, that we're looking for our new Business Development Representatives, I'm confident I'll be onboarding my new colleagues very soon."
The good thing about scaling a sales team at such a rapid pace is that you learn to identify patterns in candidates, you understand which assessments are effective, and which are not, and on top of it all, you build your employer brand. No matter the challenges (e.g. vacation time, tight deadlines, etc.), you know where and how to look for your next hires. With smart planning and with the right tools in place, you have what it takes to grow your teams effectively. And, particularly in competitive and volatile markets, high-volume hiring is something you probably need to get used to.