RecFest 2022: Six unexpected findings on workplace mental health
What do you do when nine out of 10 employees in your company say they've struggled with mental health at work, and a good portion don't talk about it at work? Easy – don't just think of it as a tickbox exercise.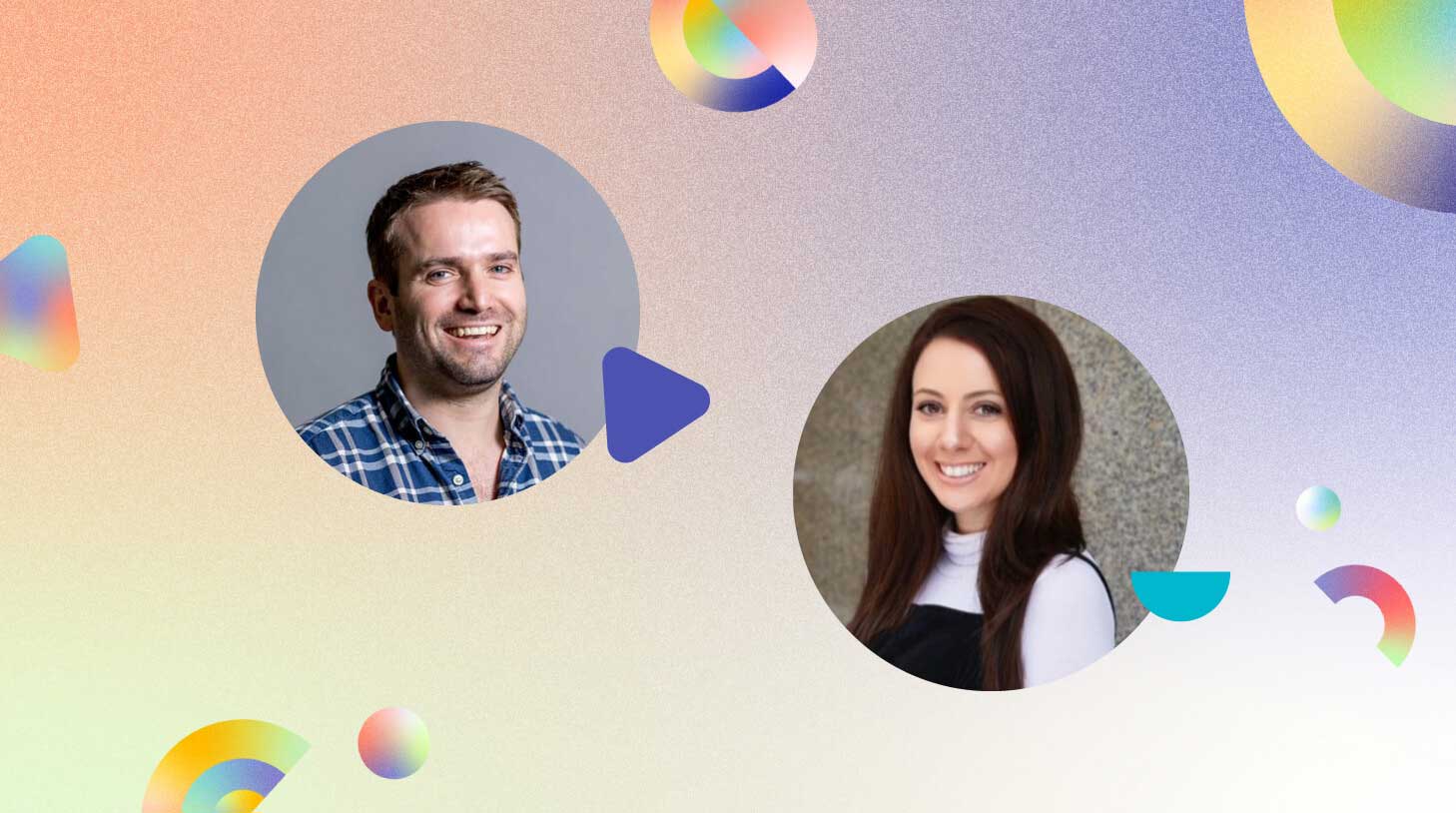 That's according to Michelle Paschali, Head of Talent at Unmind – who shared her insights on this challenge at RecFest 2022 in Hertfordshire, England, in July 2022.
On stage with Michelle was Workable's CHRO Rob Long, who presented six unexpected findings from Workable's Mental Health in the Workplace survey report for Michelle to address.
Here are the main takeaways from that discussion which was attended by hundreds:
1. Take a whole-organization approach
The first finding Rob presented was as above: 92.6% of our 1,303 survey respondents have or have had mental health challenges which impacted their work.
And on top of that, two out of every five say mental health is generally not discussed and they don't want to be the first to bring it up.
Likewise, 35% don't talk about mental health at work because of a fear of stigmatization and discrimination.
Clearly, there are blockers to open conversation about mental health at work.
How can a company change that?
"It is a whole organizational approach," Michelle says. "It is a cultural change initiative."
She admits it's not easy. But it can be done.
"If we think about the roles that we can play and how we can remove [the mental health] stigma, a big part of that is starting to normalize the conversation around mental health and embedding that as part of the culture."
"If we think about the roles that we can play and how we can remove [the mental health] stigma, a big part of that is starting to normalize the conversation around mental health and embedding that as part of the culture."
First off, your company's leaders need to be involved.
"They play a really key role in this and having them talk openly about their mental health journey, sharing stories, or even just making it really clear to the business around [how] that stance on mental health and wellbeing can make a massive change in terms of embedding and normalizing that as part of the culture."
2. Assign a wellbeing champion
Rob then presented another finding from the survey: nearly two thirds (62.1%) said their employer is already prioritizing mental health, and another quarter (23.7%) will prioritize it going forward.
That's a majority of employers, of course, but it's just a first step. It behooves the question: now that mental health is prioritized, what's next? What do employers do in terms of actionables?
Michelle's answer is direct: start with having someone in charge beyond simply talking about it. This means tasking a person or group who can drive this initiative forward as part of their work – these can be termed as wellbeing champions or wellbeing gurus, for example.
"They really play a critical role in this as well in terms of launching those initiatives, keeping the conversation going," says Michelle.People managers also have their role – since they're the ones working directly with teams, they need to be adequately prepared to have conversations so that their direct reports feel comfortable in opening up.
"Anything we can do to enhance that psychological safety role is [going to] be really important there, to provide a very inclusive environment."
"Anything we can do to enhance that psychological safety role is [going to] be really important there, to provide a very inclusive environment."
The end goal, Michelle notes, is that mental health is viewed and discussed as on an equal plane with physical and dental health.
3. Be proactive, not reactive
A proactive approach is crucial as well. In that discussion, Rob shared his own experience in meeting with a counselor regularly, likening the experience to how some individuals hit the gym to maintain their physical health, and not only handle a physical problem when it actually happens.
"I go and see a counselor every other week, which I used to think was kind of something you did when you were ill," he says. "But, actually, it's just something to prepare yourself for when there are difficult times you can handle them better."
This preemptive mindset is also something an organization can introduce into the overall culture. Instead of – or rather, in addition to – supporting employees when they're in need of that support, your company can introduce regular 1-1s and check-ins, an open-door policy, mental wellness apps (i.e. Headspace, Calm), and other strategies.
The goal is to maintain your employees' mental health – not simply come to their rescue when times are dire.
4. Look to the standard
One particular challenge rising from the mental health report is that while nine out of 10 respondents say it's a priority in their company, that does mean one in 10 say it's not a priority at all.
An additional third also say they'd like to do something but they aren't sure where to start.
Put together, that effectively means 43% say their company isn't tangibly doing anything in terms of mental health support.
After presenting these findings, Rob asked Michelle how HR professionals can drive progress in their company.
Michelle points to a standardized process for mental health at work as of June 2021: ISO 45003, titled "Occupational health and safety management – Psychological health and safety at work – Guidelines for managing psychosocial risks". It offers a framework to protect mental health in the workplace and reduce psychological risk.
"It's a good place to start to start to think about how [we can] look at our workplace and that inclusive environment and job roles and capacity and all these kinds of things to protect our employees, mental health and wellbeing at work," says Michelle.
This has a double benefit: first, it serves as a roadmap for organizations stuck in the planning stages, and second, it's a potential driver for those who need to see mental health incorporated into the company zeitgeist before they start prioritizing it.
5. Track everything
Tracking is crucial. "We can't manage what we don't measure," says Michelle.
Tracking is, of course, about employee satisfaction surveys, but it can also be monitoring productivity levels.
Michelle herself also likes to keep a close eye on commentary in employer review sites such as Glassdoor. As she says, if even one employee refers to your culture as overworked, susceptible to burnout, or toxic, you need to pay attention.
"You have to take that on face value because that's their perception of working there."
Another related element of tracking is monitoring your company's demographics so that your organization can understand the unique needs that may apply to one group but not to another – and ensuring that there's something for everyone so that there's a truly inclusive environment.
6. Don't settle for 'good intentions'
In regards to the most common mistake that employers can make and what they can do better, Michelle says it comes down to the way mental health is addressed one on one:
"Those of us that are trained in the language that we need to be using; these can be counterproductive. They can actually [be] detrimental, but we know that it doesn't come from malice. It just comes from that misunderstanding," says Michelle.
"We're actually [at] that moment that people managers think that they are being empathetic."
That's where management training comes in; teaching well-meaning managers on how to have a proper discussion around mental health.
This again involves training leaders and educating people managers, and ultimately demonstrating that it's part of the company culture to open up and discuss these sorts of things.
It's also about maintaining a consistent process, and not everyone does that. Michelle has seen many companies launch the initiative of increased focus on mental health, but with staggered results in the long term.
"You know, it starts off with really great momentum, but you start to see those things drop off and it can be tough because those groups of employees tend to do that on top of their day job."
"You know, it starts off with really great momentum, but you start to see those things drop off and it can be tough because those groups of employees tend to do that on top of their day job."
In short: don't simply let that initial statement of support speak for itself. Actions speak louder than words, and sustained actions speak even louder than that.
7. Be aware of differences in experience
While the conversation is becoming healthier all the time, not everyone feels equally great about it. A full third of those identifying as a minority say that the workplace mental health trend is actually getting worse, compared with 22.9% of those who don't identify as a minority.
The first step, Michelle advises, is to ask those individuals what they mean by it getting "worse". That doesn't always mean asking them directly – it means carrying out anonymous surveys and anonymous focus groups.
The findings could range from that there's more stigma attached to mental health, a less-than-satisfactory conversation with their manager, or discrimination based on gender, race or ethnicity.
And, Michelle adds, "we don't know what else these individuals have dealt with." We don't know their life story or what they've personally experienced – which highlights the importance of recognizing one's own biases and privileges before drawing conclusions on another's journey or even prescribing policy in a misguided attempt at support.
8. Know the gender disparities as well
Similarly to the minority question, there's a gender difference as well – more men than women don't feel comfortable talking about mental health at work (29% of those identifying as male vs. 23.1% of those identifying as female).
Michelle, again, pointed to the stigma, coming from societal norms and identities around the male gender.
"We know in certain cultures and backgrounds, you don't even talk about mental health because it's seen as taboo or weakness," Michelle says.
"We know from studies that men can rank lower in terms of life satisfaction because of things like financial burdens. We know that four out of five suicides will be by men… it's just a really unfortunate step to see, but it's not surprising in the fact that mirrors what we know."
Likewise, those identifying as male are much more likely to utilize their company's existing mental health services (49.5% vs. 38.5%), whereas females are more likely to procure support from outside of the company (33.5% vs. 24.3%). What does that indicate?
Michelle suggests that it comes from differing levels of knowledge or awareness across the genders. "We know again from literature and studies out there that those that identify as female […] have more knowledge about what support is out there for them."
And so, they're more likely to pursue that support that's right for them rather than simply taking on the existing benefits that their company provides.
And, Michelle surmises, "Is it that those that are identifying as male here are heavily relying on what their employer gives them because […] that's all they know and they don't know what's available to them outside of work?"
It may even go back to who designed the mental health services at a company. "Is it something to do with who shaped that wellbeing strategy?"
9. Do what's right for you
Michelle, in conclusion, makes it clear that none of these things can drive a difference on their own. It needs to be a collective approach, a concerted strategy, and a consistent objective throughout.
And: much like people, organizations are different from one another. Taking the right approach can get you so far, but the right approach for your organization's employees, which may be different from another organization, is key.
As Michelle says: "It's not a one-size-fits-all approach."
Related: