HR Tech World takeaways: employer branding tools and international hiring tips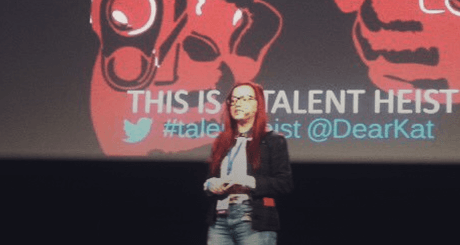 Did you miss Day One of #HRTechWorld? We've got you covered. From Day Two, we've sharing employer branding tools that won't bust your budget, GoodGame Studio's process for hiring their international team, and what HR can learn from a Digital Prophet.
Employer branding that won't break the bank
"Time and attention of new generation – major KPI. We produced all our content in-house" @DearKat #HRTechWorld pic.twitter.com/f321sAkJkS

— Cristina Garlington (@CrisGarlington) October 28, 2015
Flipagram, 1secondeveryday, hyperlapse, thunderclap = great, free employer branding tools shared by @DearKat #HRTechWorld on iRecruit stage

— John Vlastelica (@vlastelica) October 28, 2015
.@DearKat's target candidates love non-glossy content, DIY style, videos that look like employees made it themselves. #iRecruit #HRTechWorld

— Workable (@Workable) October 28, 2015
Deep budget cuts forced Kathryn Callow and her team to look for new ways to make compelling in-house content on the cheap. They used tools like 1 Second Everyday and Hyperlapse — there's a full list in the tweets above — to cut through the social noise and capture a hyperconnected audience. And guess what? It worked. Their data shows that their DIY content performed much better than their glossy, agency-produced content.
Global hiring at Goodgame Studios
.@Goodgamestudios recruits from 67 nations and pitches candidates in their own language. #recruitment #HRTechWorld pic.twitter.com/B5FC6ZxXbB

— Workable (@Workable) October 28, 2015
Love this concept from @Goodgamestudios "On-boarding starts at the 1st interview" #HRTechWorld

— Andy Headworth (@andyheadworth) October 28, 2015
Nice example of an international #onboarding process from @GoodGameStudios. #HRTechWorld #HRTech #iRecruit pic.twitter.com/YWee53uhKD

— Workable (@Workable) October 28, 2015
Germany's Goodgame Studios are pros at international hiring. They recruit from 67 nations around the world and frequently hire recruiters who can pitch candidates in their own language. In addition, their hiring team gets certified sourcing training. Finally, thorough onboarding helps new team members hit the ground running. Onboarding starts from the very first interview and goes on for at least three months. There's even an item on the list for "special task force," which those of you who actually do onboarding may find especially relatable.
We got Shingy'ed
Alright one more funny commercial brought to you by @shingy https://t.co/zX8YHn0wTt #HRTechWorld

— Bas Westland (@basw) October 28, 2015
"If you can target the right people in the right place at the right time what is the right message?" @shingy #HRTechWorld

— MervynDinnen (@MervynDinnen) October 28, 2015
Our interconnected generation will spend $2.45 trillion by 2025, and will represent 75% of our workforce #hrtechworld

— Holly Fawcett (@HollyFawcett) October 28, 2015
Shingy once billed himself as a "Digital Prophet" (how's that for a job title?) but for all his eccentricity it's true that HR could take a page from modern-day advertising and marketing. The lesson is that today's consumers need to be wooed. They're brand-agnostic, hate advertising, but can be swayed by a good story. Geico gets it. Did you watch their "Unskippable" commercial? Many consumers are also content-creators themselves. To get their attention (and as Shingy says, "attention is currency"), the content you create for your brand should be easy to find, share, or remix as they see fit.
And that's a wrap for #HRTechWorld. How did you find the conference? Any comments, questions, corrections? Raves? Talk to us at @workable.