Benefits of working remotely: UK workers get back an hour a day – and they like it
According to our New World of Work survey in August 2020, the advent of flexible work is one of the biggest workplace changes coming out of the COVID-19 pandemic. According to that survey, 71.1% cited remote work as a significant paradigm shift in the new world of work.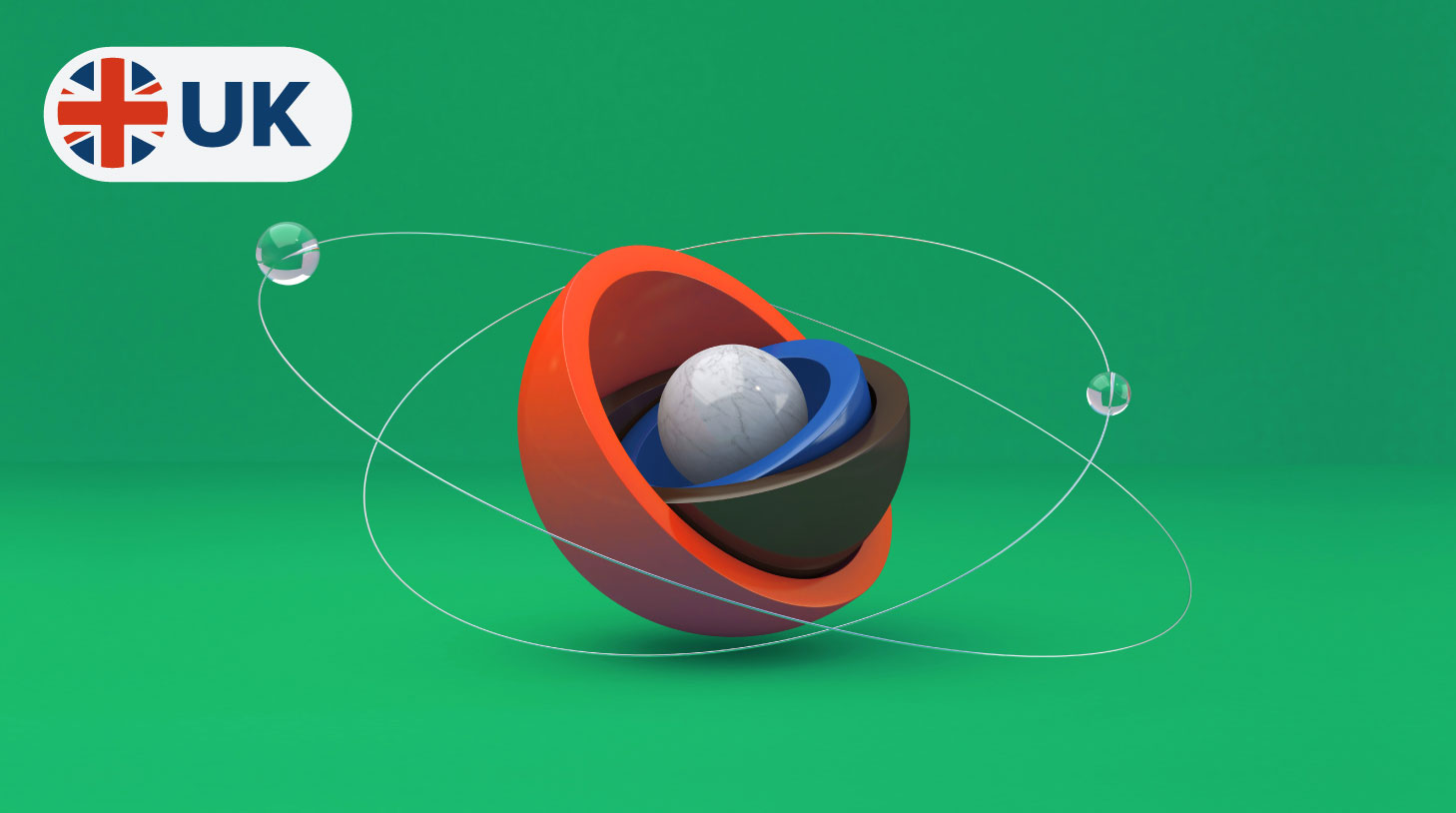 Because of that seismic change, we included questions around remote work in our Great Discontent survey, which surveyed 500 workers in the UK on what matters to them in a job.
And we have interesting findings for you on what the benefits of working remotely are, whether remote work is indeed happening, and how important it is to workers in the UK.
And we have interesting findings for you, starting with a matter-of-fact comment from one respondent:
"Whilst financial recompense is an important factor in talent migration, I think other factors such as greater opportunities for agile working and flexible working are becoming increasingly important for career decisions."
Remote work
Are they doing it?
We asked respondents if they're currently working remotely or in a hybrid setup. The result was quite evenly split, with 54.6% saying they're currently working remotely or in a hybrid setup, and the remaining 45.4% saying they aren't.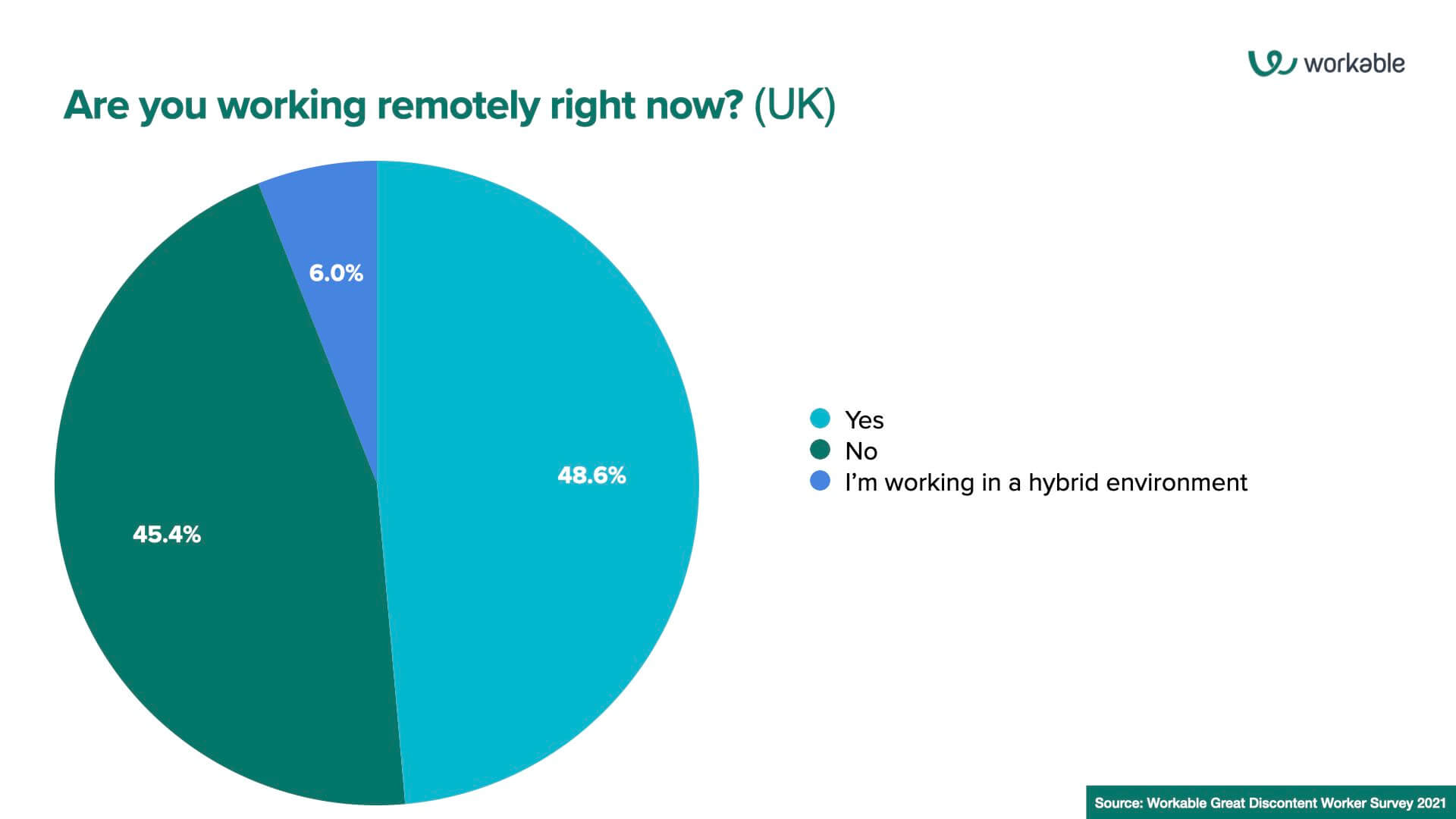 While those numbers show that remote work is still common in the UK, it's still a significant shift from the early days of the pandemic in 2020. The aforementioned New World of Work survey found that a staggering 94.9% of businesses – predominantly in the UK and the US – said they moved some or all operations to a remote environment as a result of the pandemic.
While the survey respondents are different this time – the employable population rather than employers themselves – the data still shows a shift back to some kind of normalcy in the UK, pandemic spikes notwithstanding.
But that's not to say remote work isn't still happening. It's very much a reality – and even a new standard. Let's look at what our respondents say about the feasibility of it.
Can they do it?
So, can people work remotely, regardless of whether they want to or whether they're actually able to? We asked respondents to rate their response on a scale of 1 ("not at all") to 5 ("completely").
The responses are relatively polarized, with one quarter (25.3%) choosing 1 and nearly half (48.3%) picking 4 or 5.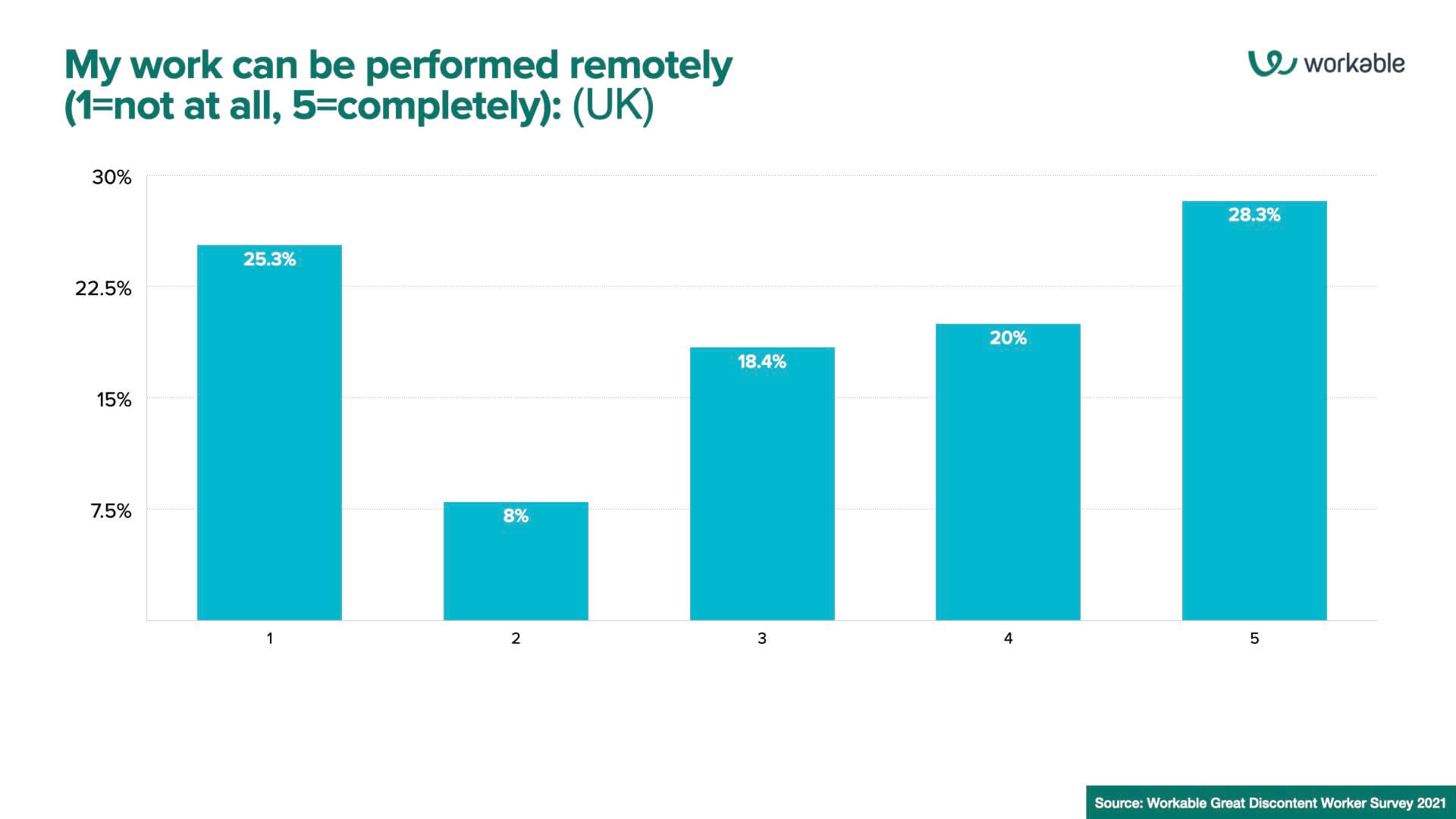 If there's anything definitive here, it's that a good portion of respondents are clear that their job can't be done in a remote environment (25.3%). Reasons can vary – perhaps it's the employee themselves and that they feel unable to do so, or the job is literally required on location – for instance, jobs in the hospitality, food service, or manufacturing sectors.
As another respondent explains:
"Not everyone works in an office. Some of us have to swing off big steam valves. And you would be screwed if we didn't because there'd be no electricity."
How important is it?
We also asked respondents how important working remotely is. What impressed us is that respondents don't consider remote work as important to them as flexible schedules – not that it isn't important; it's just not as strongly indicated.
When asked to choose from 1 to 5 the personal importance of remote or hybrid work, 42% picked 4 or 5, whereas 22.4% picked 1 – in other words, "not at all".
The dominant choice for nearly a quarter (24%) of respondents is 3 – suggesting no strong feelings either way.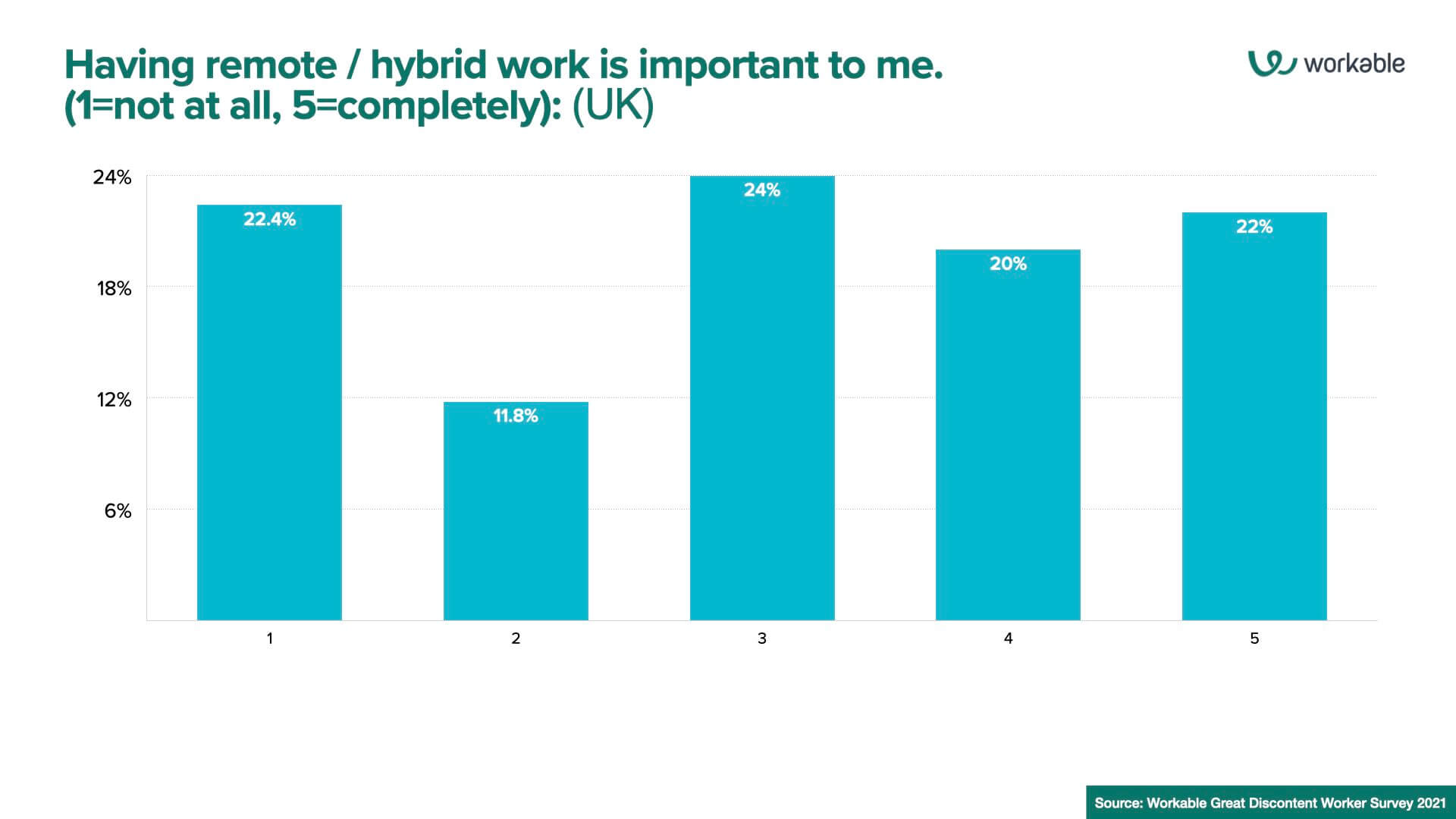 Perhaps the remote work trend is more a pandemic-driven rather than paradigm shift in the end, and now that people have become comfortable in remote work, they realize it's not as important as they once felt.
"I enjoy working from home but would like to return to the office at least 1 day per week."
Respondents aren't even very convinced that the capability to work remotely opens up new opportunities for them, with 26% picking 1 ("not at all") and 15.8% picking 5 ("completely"). A resounding 28.4% picked 3, again showing little alignment in either direction. (Chart is not displayed.)
And what makes it important?
Nevertheless, remote work has got to be important in one way or another. So, we asked what benefits are associated with it. The top answer is that "it lowers pandemic health risks" (41.5%), but other top benefits are that it's easier to integrate personal and professional lives (also 41.5%) and it frees up time during the day (41.3%).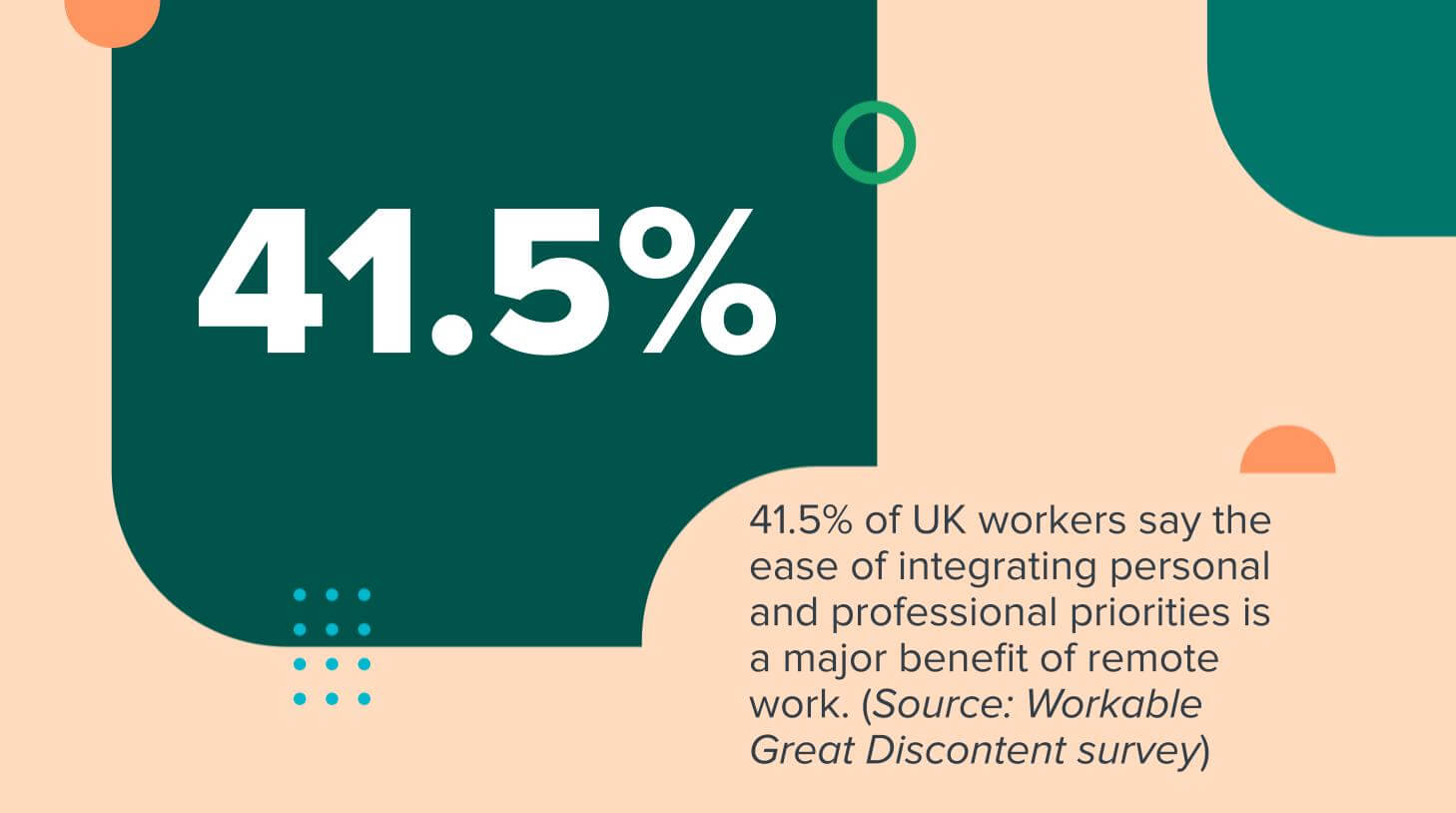 Freeing up time during the day is a pretty obvious benefit, considering that UK residents spend an average of 59 minutes per day on the commute to and from work – 79 minutes per day for Londoners – according to Work Wise UK.
Says Phil Flaxton, CEO of Work Wise:
"There are many ways of avoiding the misery of commuting during the dark mornings and evenings, which millions of people endure as they struggle to get to and from work. These include implementing flexitime, staggered working hours and working from home. … Clearly the government, public transport providers and employers must do more in order to address the major negative impact on the UK's economy, lost productivity and the environment."
Another major benefit of remote work is that it's cheaper all around. The costs associated with commuting, parking fees, takeaway lunches, and other expenses can be mitigated and even eliminated when working remotely.
One respondent was pretty clear about their allegiance:
"Love working from home, less travel costs and stress and I can dress and eat as I want."
Meanwhile, "I have fewer distractions" (17.6%) and "I'm more productive" (20.6%) do not rank as highly in the list of most popular benefits for those in the UK. Since distraction is regularly cited as a major factor and inhibitor to productivity, we're surprised that these don't rank as highly as we thought they would.
Likewise, the freedom to choose where to live is far down the list, with just 13.2% citing that as a major benefit of remote work. Again, we thought this would rank higher given the ability given by remote work to avoid the high costs of living in dense urban centres such as London where most jobs exist.
So what does this indicate? Health benefits aside, the holistic benefit of integrating work and home lives as a whole, combined with the tangible benefits of lower cost and more hours in a day are huge factors in why people like remote work.