How to evaluate candidates and gather interview comments with Workable
Being a good interviewer means assessing candidates' skills and potential properly. Good interviewers prepare well, ask the right interview questions and make efforts to combat their implicit biases.
Structured interviews help you achieve these goals and are the most effective and legally-defensible interview format. Unlike unstructured, spontaneous interviews which have no agenda, structured interviews help you evaluate candidates more objectively and result in better hires.
There are four main steps to structure interviews:
Determine which specific skills the role you're hiring for demands.
Prepare interview questions that assess candidates against these skills.
Construct a rating scale to grade candidates' answers (e.g. "poor" to "excellent.")
Ask the same questions in the same order to all candidates and rate them with your predetermined scale.
Because each of these steps demands a lot of time and effort, setting up structured interviews from scratch is often impractical when you want to hire fast. That's why Workable offers interview kits to make this process easier and faster.
Workable's applicant tracking system can make your interview process faster and more effective. Request a demo today to see why we're loved by more than 6,000 companies worldwide.
How to use Workable's interview kits to structure your interviews
Workable gives you the tools to create an interview kit – a list of interview questions that you can use to evaluate job requirements with a built-in rating scale. You can create interview kits for the phone screen, assessment and interview stages of your recruiting pipeline.
Interview kits are divided into sections to provide a structure for interviews. Different sections can have multiple subsections (skills, traits or requirements) and each subsection will have a set of interview questions. Here's an example: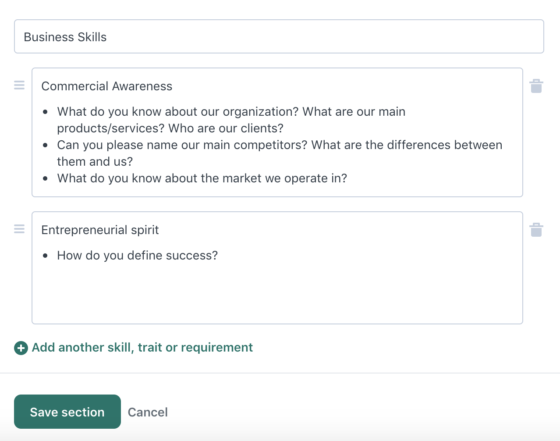 In this example, the interviewer wants to assess candidates' content writing skills. This section has two subsections: editing skills and writing skills. The interviewer will ask questions for each of these sub-skills.
Workable has hundreds of sample interview questions you can select and modify based on your needs. Add, edit or delete sections, requirements or interview questions. To create your interview kits quickly, use Workable to:
Import from Workable's interview templates: Use sets of assessment criteria through company templates. Workable has six different templates available by default.
Import from another job: Reuse sets of assessment criteria you have already created for other jobs.
Import job requirements: Evaluate the candidate based on the job's requirements taken from the job description you have posted.
How to use Workable to evaluate interview candidates
Once you have created your interview kit, you can start evaluating candidates via interview scorecards. These scorecards are a single-page representation of your interview kits and show the sections of your kit along with a 3-point rating system (thumbs up for 'yes,' thumbs down for 'no' and a star for 'definitely.') Here's an example of a scorecard: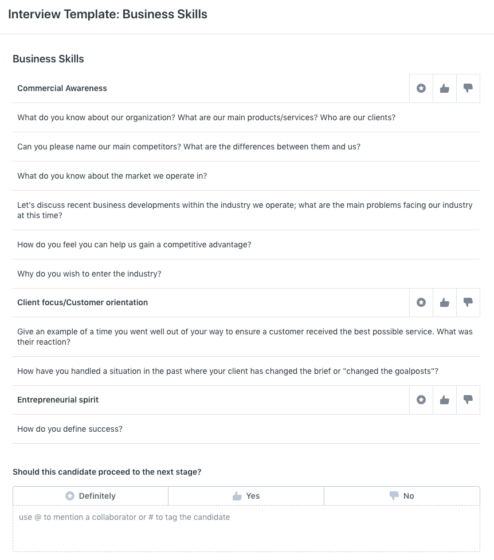 With these scorecards, you are able to:
Click on any skill, trait or requirement to add interview feedback to share with the hiring team.

Add an overall candidate evaluation or comment at the bottom.

Complete your interview evaluations online or print your scorecard out.
As soon as hiring teams complete their scorecards, the evaluations are available to view. Workable facilitates collaboration by showing completed scorecards to any member of the hiring team, and they can be seen individually or in aggregate. For a fast overview, the hiring teams' comments and ratings can be seen on the candidates' timeline under the evaluation tab.
Through this process, you can conduct structured interviews that will help you make fairer and better hiring decisions. To make the entire interviewing process easier, Workable also helps you schedule your interviews through its calendar integrations. And, to assist you in evaluating your candidates, Workable offers background checks via an integrated background check service, and effective assessments via reliable test providers. With these tools, Workable helps you build an objective, high-quality hiring process.