Why and how to conduct video interviews with Workable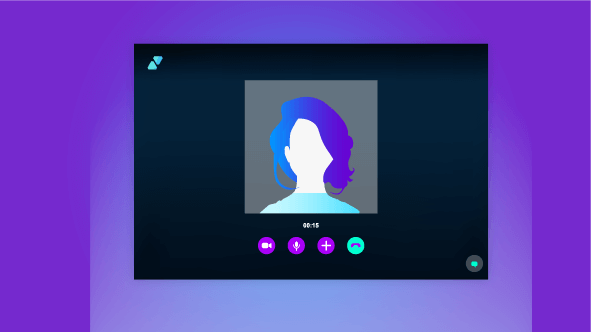 With one-way video interviews, you can screen candidates faster and avoid the hassle of scheduling real-time interviews at the early hiring stages. All you have to do is send candidates a link with a few questions you'd like them to answer. They record and submit their answers, and your hiring team takes it from there, reviewing and evaluating candidates.
These asynchronous video interviews are useful because:
Both sides can participate in interviews in their own time (this is especially useful with candidates who live in different time zones to your hiring team).
You'll only need to record or write down your questions once and send them to candidates, instead of having to schedule and conduct separate calls with each one.
Candidates will showcase their skills without any hindrance from stress as they can record their answer multiple times until they're satisfied with their performance.
You'll add structure to your hiring process by asking every candidate the same questions in the same order, which will help you make more objective decisions.
Why conduct video interviews in Workable
If you decide to incorporate video interviews during your hiring process, it's efficient to do it directly from your Applicant Tracking System (ATS). That's because, by being able to send, receive and review a one-way video interview right from a candidate's profile in your ATS, you can:
Save time, as you won't have to log in and out of other platforms and migrate candidate data from one system to another.
Streamline your workflow by accessing video interviews from the same place you keep resumes, comments and evaluations on candidates.
Engage hiring managers early on in the process, because it'll be easier for them to watch videos of shortlisted candidates than to read notes, comments and application forms.
Keep video interviews on candidate profiles and review them at a later time if another job seems like a better fit.
Note: Because of the General Data Protection Regulation (GDPR), you need to inform European candidates that you're keeping their data in your database for future roles.
Workable makes all this easy for you by seamlessly integrating with video interview providers. If you're in a Workable PRO plan, you can send video interviews with the click of a button and review each video in your own time, by going straight to each candidate's timeline. The rest of your hiring team can also watch the video and comment on the candidate, increasing visibility of everyone's evaluations and facilitating collaboration.
Currently, you can use video interviews in Workable if you have an account with any of these providers:
Here's how our integration works:
How to conduct video interviews with Workable's integrations
If you're in a Workable PRO plan and an account with one of our integrated providers, first set up the integration between the two accounts. This can be done quickly, inside Workable.
Let's say you have an account with Spark Hire. To activate the integration between Workable and Spark Hire, you'll need an API key from your Spark Hire account – Workable will give you clear instructions on how to get it in the integrations section:
Then all you need to do is paste the API key and click on "Update Settings". Your integration is ready quickly and easily.
Start using video interviews
Once you've set up the integration, enable video interviews for particular jobs and hiring stages (phone screens, assessments and interview stages). You can easily do this when setting up or editing a job.
Now you can begin sending video interviews to candidates who reach a particular stage by clicking on the "play" button inside their candidate profile:

When candidates send back their replies to your video interview provider, you'll see a link under the candidate's timeline in Workable (and you'll receive a notification via email). Click the link to review the video. Once you do, you can leave your comments and evaluations on a candidate's Workable profile and see your team's evaluations too. This way, you can make an objective and well-informed decision.
If you want more insight on how companies use video interviews with Workable to screen candidates effectively and improve candidate experience, see our interview with Neil Bruinsma, Talent Manager at IT Cloud service provider, Xcentric.
One-way video interviews can save you time and help you automate a greater part of your hiring process. And to make sure you're using them effectively, be in constant communication with candidates to preserve the human touch in your recruiting efforts.