Workable integrates with referral system, Drafted
Referrals represent a top source of quality talent. Despite high conversion rates and longer employee retention, companies often underutilize this valuable resource.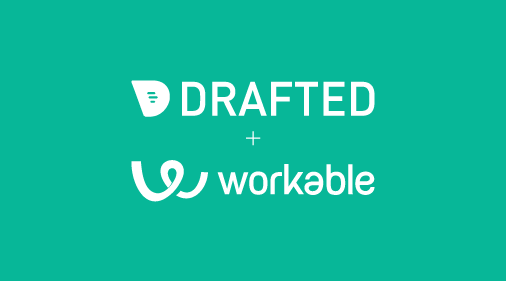 Cost per hire and time to hire analytics further support the power of referrals. Specialist referral software, Drafted, taps into a solid passive candidate pool, and turns referrals into a company's strategic hiring advantage.
Many companies struggle to develop an easy to use process that empowers employees to refer from within their network. Drafted looks to change that by proactively engaging employees in the referral process. This increases employee engagement and boosts quality referrals. Today we're excited to announce that Drafted now integrates with Workable!
Drafted automates the referral process by making personalized referral suggestions directly related to open roles. Through machine learning powered smart suggestions, companies decrease their time to hire, at the same time as they increase the volume, quality, and diversity of referrals. It reaches into employees' networks such as their LinkedIn and Google accounts to forge connections. After proactively discovering new sources of talent, Drafted personalizes outreach with pre-set email templates – but ultimately the decision to further these relationships is left in employees' hands.
Drafted diversifies your hiring strategy, and can help increase referrals by 2x in 90 days, improve time to hire by 30%, and reduce cost per hire by $3,000.
Where Drafted and Workable meet
Drafted automatically imports new public jobs from Workable, and exports referrals straight to your Workable hiring pipeline. No more double-posting or copy-pasting. Even better, if you're using Workable and Slack, your employees can make referrals in Slack and you can review them in Workable, with Drafted handling intelligence seamlessly in between.
Get integrated
If you're already using Workable and Drafted, find out more about activating the integration. If you've yet to try Drafted, find out more.
If you're interested in sharing your product or service with Workable customers, take a look at our Developer Partner Program.
Not using an applicant tracking system yet – or (perhaps worse) using one that your team just refuse to engage with? Get a demo to see how Workable's intuitive interface and mobile app encourage teams to take action.