Announcing our new integration with Codility
At Workable, one of the most exciting initiatives this year so far has been the launch of our Developer Partner Program and API. It was our goal to expand the number of services that are integrated into the Workable platform.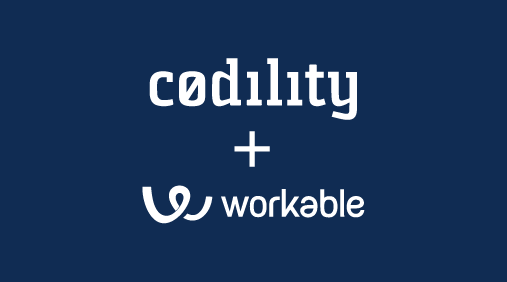 We want our customers to engage seamlessly with the tools they use for hiring, without having to switch back and forth between multiple tools.
In our last post, we announced the launch of our first aptitude assessments partner and continuing with that theme, today we announce our first integration to assess the skills of tech candidates via our partnership with Codility.
Recruiting and identifying the best talent for your open roles can be difficult, no matter what the position. However, that challenge is even greater when you're trying to find talent for hard-to-fill tech roles such as software developers and engineers. In the past, often the only way to evaluate a candidate's coding proficiency was to have existing programming staff on hand, to sit with each candidate individually and assess their fit for the role. This is not just time-consuming, but difficult to standardize, causing some of the best talent to slip through the cracks. With Codility, Workable customers can automate this process early on in the hiring pipeline, and ensure that each candidate is being assessed against the same criteria. This means that your already busy hiring team see only the most viable candidates at interview stage.
If you already have an account with Codility, activating the integration is simple. Once complete, you'll be able to specify at which stage in the pipeline you'd like to send the test and the type of test that you send. Of course you can send specific tests for the different roles you're hiring for. The process is seamless – everything can be done from the Workable platform, including reviewing the test results.
If you're hiring people for tech positions in your organization and looking for a better way to assess their technical skills, find out more about Codility and sign up for a free trial.
More integrations coming soon
We have more exciting announcements coming up! Stay tuned for our upcoming integrations for video interviews, onboarding and new additions to our HRIS providers. If you're a software provider, find out more about our Developer Partner Program.