Introducing Workable Assessments: Make data-driven hiring decisions
We're excited to announce our newest product, Workable Assessments – a set of pre-employment tests that will help you gauge the aptitude of your talent pool and make impartial hiring decisions based on data. Intrigued? Then keep on reading!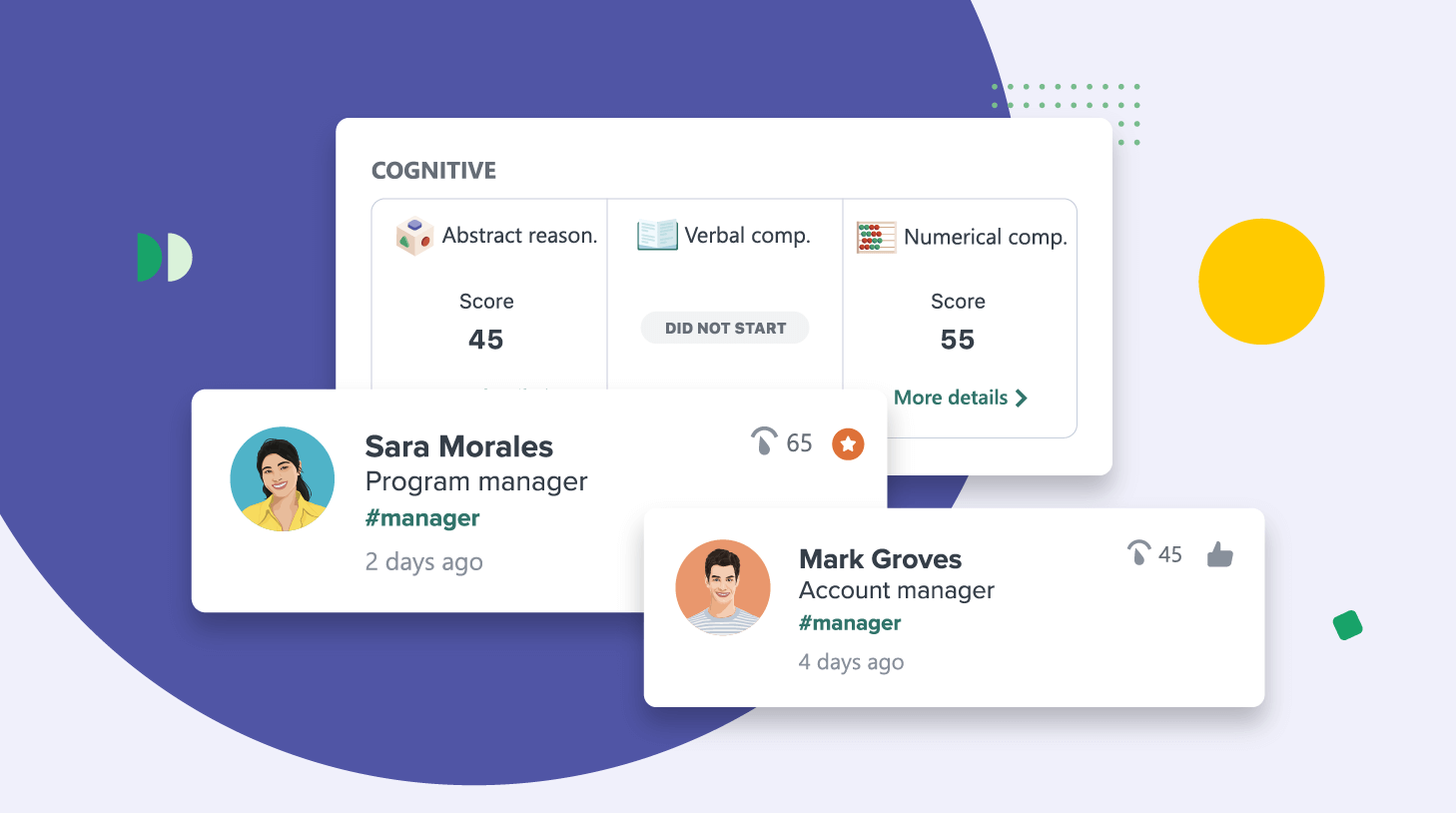 Picture this: You've recently posted a job vacancy for an accountant that needs to be filled ASAP. Resumes have already started to pile up and you've found twenty candidates that match your job description based on their education and work experience.
But how can you choose who to move to the next phase based solely on those criteria? Even though you have some evidence, it's easy to get lost in translation, especially when you have numerous applicants to screen.
That's where Workable Assessments can step in and do the trick.
First, you'll get a better overview of each candidate's skills on different cognitive areas that you define as important to thrive. Second, you'll learn more about their workplace personality and behavior to see if they're a good fit for your current team and workplace.
Certified by psychometric experts and designed within the Workable platform, the Workable Assessments feature is not only credible, but also a handy solution for hiring teams. With easy access to performance insights and a user-friendly interface that enables collaboration, it's an asset for organizations who want to introduce pre-employment testing into their screening process.
Inside Workable Assessments: Understanding different test types
Here's a brief breakdown of Workable Assessments: the cognitive part consists of four tests measuring different types of mental skills – abstract reasoning, numerical comprehension, verbal comprehension, and attention & focus.
1. Cognitive Assessments
Abstract reasoning: This looks at the ability to logically analyze multiple information that are presented in a more abstract form – usually not numbers or words. For example, software engineers and researchers often need to think abstractly and out-of-the-box to recognize patterns and resolve problems in a resourceful way.
Numerical comprehension: This assesses how candidates handle and analyze numerical data in order to reach appropriate decisions. For example, an accounting candidate should have a high degree of this skill in order to perform their daily responsibilities. Overall, positions in Finance, Banking and Audit require a high numerical comprehension level.
Verbal comprehension: This measures the ability to understand and analyze verbal information, such as arguments and written statements, e.g. reports. For instance, it's a critical skill for lawyers and journalists, among others.
Attention & focus: This assesses abilities that require observation and acute working memory. This is vital for roles that require a high attention span or switch often between tasks, such as content editors and data entry agents.
The jobs mentioned in the examples above are indicative. Every company shapes their roles based on its business needs and for similar job titles, requirements may vary. Once you define the mandatory skill set needed, you can hand over the related assessments to candidates.
2. Workplace Personality Assessment
Workable's personality assessment is based on the Big 5 Model and unveils how people behave in a professional setting. More specifically, they measure the degree of the personality traits below – and 23 related factors, that define their workplace personality:
Extraversion
Agreeableness
Conscientiousness
Emotional Stability
Openness to Experience
Before you administer the assessment, determine what traits the ideal candidate should have based on the role, responsibilities, and current team dynamics. For example, if you're looking for a salesperson, then a high extraversion level would be an asset, but it's not the same if you're looking for a content marketer.
Even though Workable's cognitive assessments are targeted to white-collar professionals, the personality assessments benefit all types of companies and roles. And remember, you don't have to provide all tests in bulk; it's up to you to decide what's best for your hiring process.
About candidate experience
As with every other Workable product, this is designed with candidates and hiring teams in mind. We understand that pre-employment assessments could be stressful for candidates, so we made sure to provide an easy-to-navigate experience in an intuitive interface.
Before the assessment starts, candidates learn how the tool works. They have time to warm up, get comfortable with the instructions and answer a few practice questions.
In addition, we've introduced adaptive technology, which means that the difficulty of the provided questions varies and adjusts to the candidate's ability. This minimizes the time needed to complete each test and makes candidates feel more confident throughout the process with their performance.
So, these are Workable Assessments, everyone. We're thrilled to offer you this hiring solution – we hope you are, too.