Speed up background checks with our Trusted Employees integration
We've added a lot of new integrations this year and we're not stopping now! Trusted Employees has just joined our growing list of Marketplace partners. Integrated with Workable, use Trusted Employees to streamline background checks. And make the hiring process smoother and faster.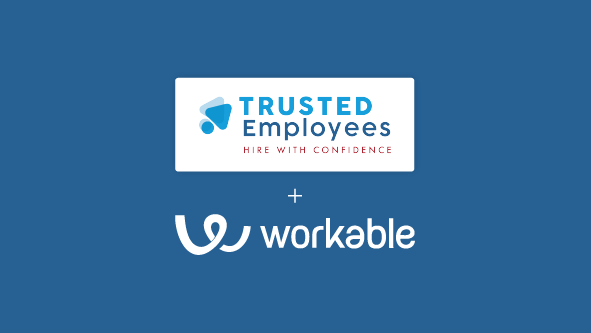 Fast, customized and compliant background checks
You've created a shortlist and interviewed the most promising candidates. And now you're ready to make your hire. Your best candidate appears well-qualified and a great fit. But are they who they say they are?
Background checks remove chance from the equation. They reinforce your hiring decision and make sure your next employee is someone you can trust. But they can take time to process. Which could mean your preferred hire gets snapped up by someone else. Trusted Employees runs customized and compliant background checks at speed. It takes 60 seconds to find out the most pertinent facts, and 1-3 days for a complete set of reports. Which means you can move quickly, and with conviction, to secure your preferred hire.
Trusted Employees helps businesses hire the right talent using the latest technology and rigorous data quality standards. It offers a range of solutions to suit the diverse screening needs of small, medium and large-scale organizations, in the US and Canada. Its comprehensive employment background screening services include: criminal records searches, drug testing, identity checks, and more. The checks are accurate and always 100% FCRA-compliant.
Manage the background checking process within Workable
We know that life is easier when all the tools you use for hiring work together seamlessly. Our integration with Trusted Employees empowers you to manage the background check process within Workable. Once you've set up the integration, you can select the applicants you want to background check, choose the background check report type, and let Trusted Employees take care of the rest!
More integrations coming soon
We're always working on new integration partnerships so that everyone's hiring tech stack syncs together (you shouldn't have to be a systems implementation expert to have a great experience across all of your hiring tools). If you're a Workable user and have a tool you'd love to see integrated with Workable, let us know! If you're a software provider, why not find out more about our Developer Partner Program and get involved?