Organize hiring teams faster with Workable
Finding and recruiting great talent usually takes a team of people. But with more people involved in the process, ensuring information security and privacy of candidate data can become more complex. So can tailoring communication and tasks to each individual in your hiring team.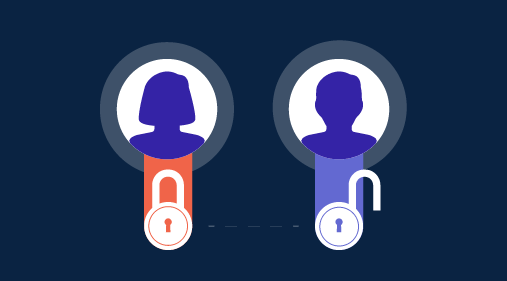 Applied effectively, access controls, assigned when you add new members to the team, can govern both of these challenges. Which is why we've made some updates to our account rights and permissions feature.
It's always been easy to apply access rights to hiring teams using Workable. But, with collaborative hiring on the rise, and data protection just as hot, we decided some enhancements were due.
Our new, upgraded Access Rights & Roles feature offers more detailed, fine-grained permission levels for a wider variety of users. Fully configurable, they support busier hiring pipelines. They're also there to reinforce security and prepare you for an increasingly collaborative future.
Fine-grained access rights for growing hiring teams
As you scale up, or operate from different locations and across multiple departments, it becomes harder to control access to certain types of candidate data. Using custom pipelines or having recruiters with different responsibilities also adds a level of complication.
With our new access rights package, Pro customers can reflect and tame the growing complexity of their hiring teams. Providing hiring admins with more granular control, it ensures the right people get the right information at the right time. And that confidential information stays that way.
With more fine-grained levels of detail it's now easier to:
control who has access to your account level details
organize your hiring teams and personalize access
reinforce the security of confidential information, and
minimize hiring bias.
So, what's new?
Organize hiring teams faster and personalize access at scale
Every member of a hiring team has a unique role in the process. And this role should determine their access. Some members—HR heads, senior leaders—require access to everything; from account details to every job you're hiring for. Others—interviewing peers, agency recruiters—need only limited access to candidates.
To make it easier to manage, we've added a range of new access rights options for customers with Pro accounts. Now, when you add a new member, you can assign both account-wide and role-specific details.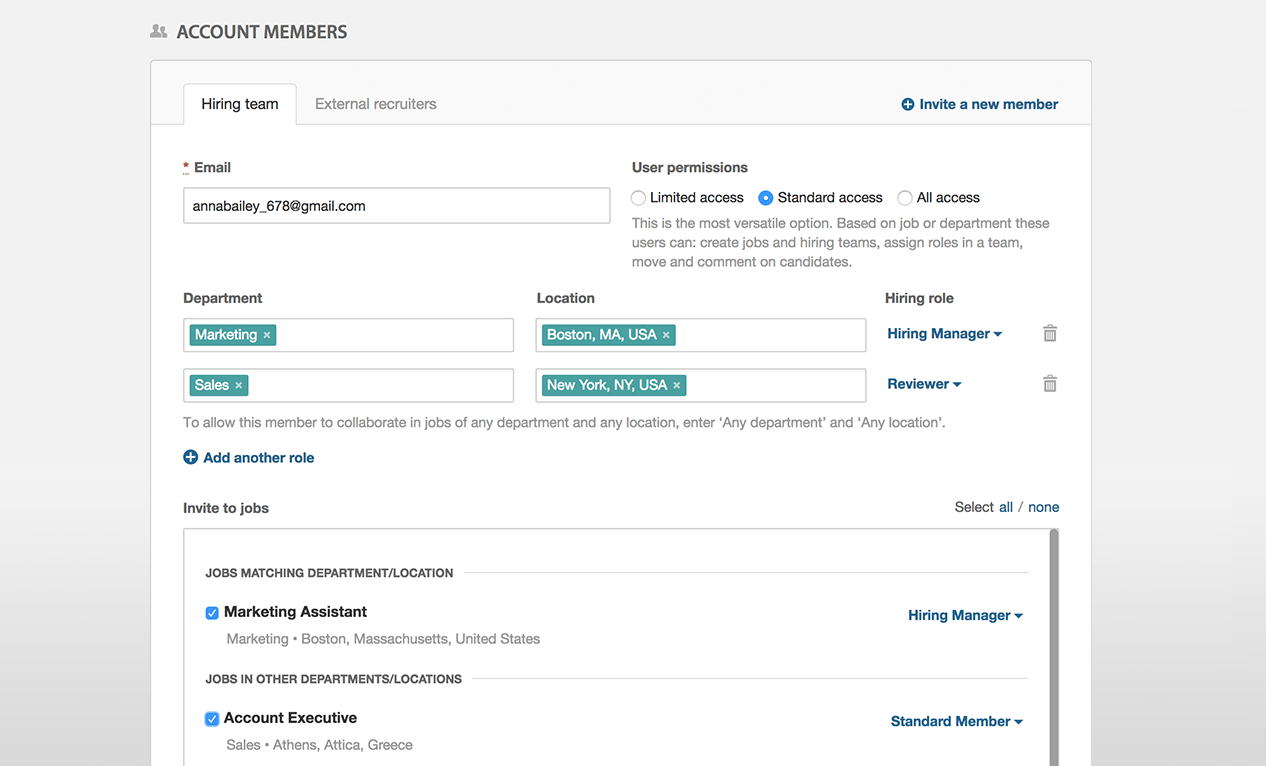 We've also included two new hiring roles—Reviewer and Hiring Admin. These are designed for colleagues who don't need full access to a job to fulfil their part in the process—screening candidates for example, or posting a job.
How does it work?
When you invite a new member to Workable you now choose from 3 different levels of account access: All Access, Standard Access and Limited Access.
All Access is designed for senior people in your organization, often the Head of HR or an HR team lead. Users at this level have access to everything in Workable and their role on every hiring team is always Super Admin.
Limited Access is designed for peers of the role you're hiring for. Users at this level have limited access to candidates, and no access to your Workable account details. Their role on every hiring team is always Reviewer, where they can evaluate candidates and share their feedback.
Standard Access captures the varied middle ground that applies to many members of your your account. Whereas those with 'All Access' can access everything, and those with 'Limited Access' will always have a restricted view, those with 'Standard Access' have their visibility set per job, department or location.
This means for example, that a member with Standard Access could be:
a Hiring Manager for a job in your sales team in Europe, with access to confidential information, and
a Reviewer for a sales jobs in the USA, where their opinion is valuable but access to everything isn't required.
'Standard Access' is the most flexible option, and best suited for hiring team admins, hiring managers or relatively senior people in your organization. There are 4 hiring team roles available for those with Standard Access: Recruiting Admin, Hiring Manager, Standard Member or Reviewer.
Reinforce the security of confidential information
With our access rights package it's easier to share confidential information with only the people who need it. This is because members can only view candidate information that matches their specific user permissions. So you can be confident that comments, financial details or specific terms of employment are only visible to those who need to have access.
We've also included a new feature that adds an extra level of protection to hiring pipelines. The 'Confidential Zone' option is available to all of our users. It enables admins to limit the visibility of emails and comments at certain stages of the hiring pipeline. Once set, emails and comments will only be visible to the person posting them and those with a similar or higher level of access.
Minimize hiring bias
Access controls can be a great tool for proactively challenging hiring bias. Which is why we've included a new Hidden Evaluations feature as part of this release. With this feature, people in your hiring team can only view other members' evaluations after they've submitted their own. This removes any unconscious bias, and leads to a fairer and more objective assessment process.
Any questions?
We've packed a lot of new functionality into this launch, and we know there's quite a bit to take in. If you want to find out more about how our Access Rights & Roles feature or our Pro package could work for you, get in touch!