Attract top talent with these tips for recruitment marketing
Recruitment marketing is a successful combination that incorporates marketing practices with the human resources mindset. An interdisciplinary approach to help you attract the best talent for your company's success.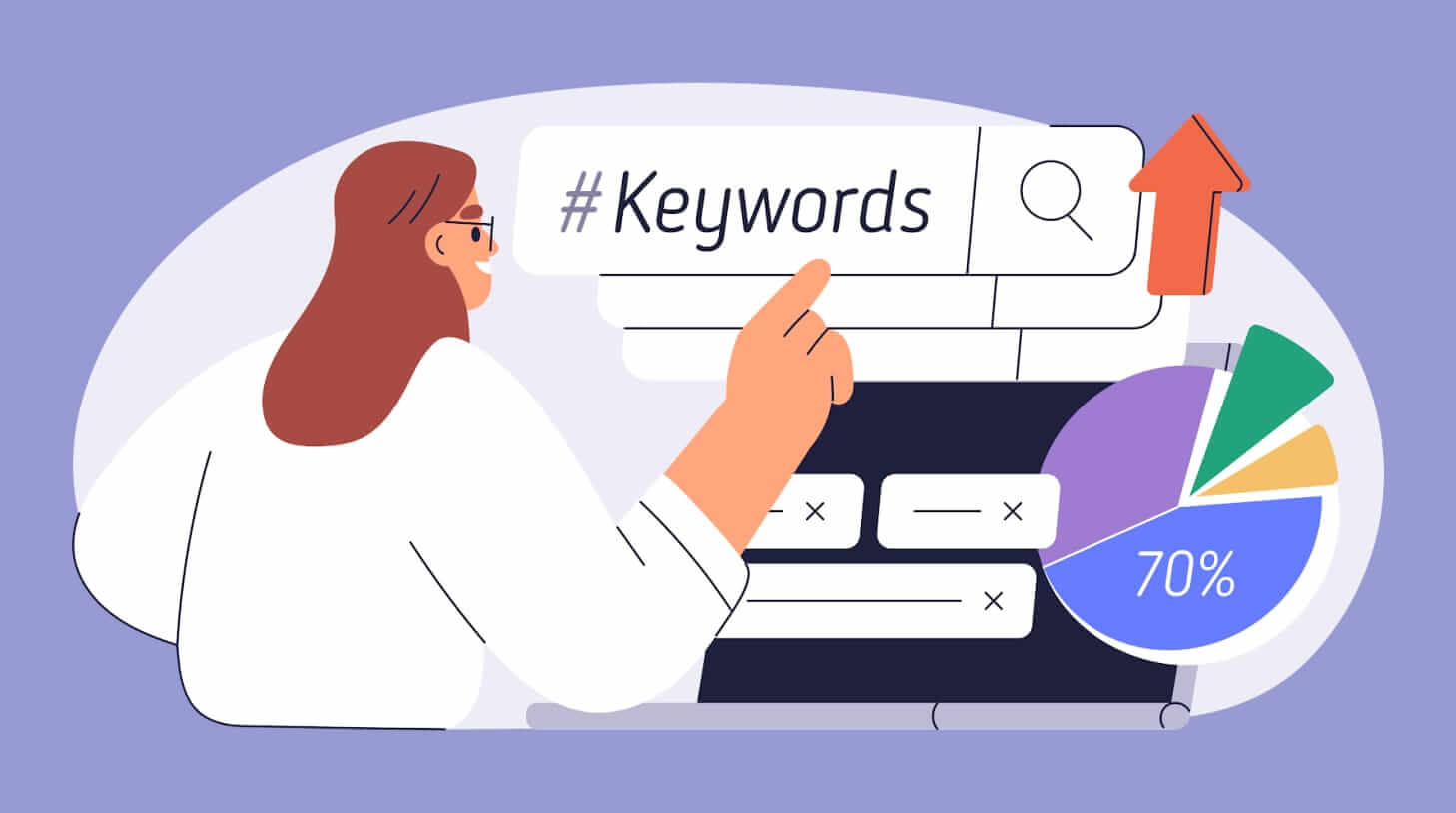 During a recent trip to Athens, I couldn't help but overhear a fellow traveler engaged in a mobile phone conversation. What caught my attention was his profound satisfaction with his occupation.
However, something seemed amiss. As a marketing professional, he had always believed his main objective was to attract new clients. To his astonishment, he discovered that his true purpose in his current role was to aid in the attraction of exceptional individuals for his company. This is the so-called recruitment marketing.
The field of recruitment marketing is experiencing significant changes, especially with the advent of AI, making it essential for HR professionals to stay updated on the latest advancements to enhance employee retention and strengthen employer branding.
Given the fact that 67% of companies don't have a dedicated role in their talent acquisition team to focus on recruitment marketing, it's a great opportunity for you to thrive.
This is not a one-time procedure but an ongoing process requiring continuous planning, execution, evaluation, testing, optimization, and improvement.
It is worth the effort if you consider that one in two workers are only passively open to new job opportunities based on our Great Discontent worker survey.
Is there really a difference between recruiting and recruitment marketing?
I guessed your thought, right? Short answer is yes. Recruitment marketing encompasses content marketing, email nurturing, talent networks, social recruiting, candidate relationship management, and employer branding.
It promotes the employer brand message to attract and engage leads, converting them into applicants and future members of the organization.
Recruiting is the direct process of identifying, attracting, interviewing, and hiring candidates for open positions within an organization. Both need high levels of expertise and determination.
While recruiting aims to fill current vacancies, recruitment marketing works to create a steady pipeline of interested and qualified candidates for future opportunities, ensuring that the organization remains an attractive destination for top talent.
Now, can you imagine the positive impact of combining these two occupations?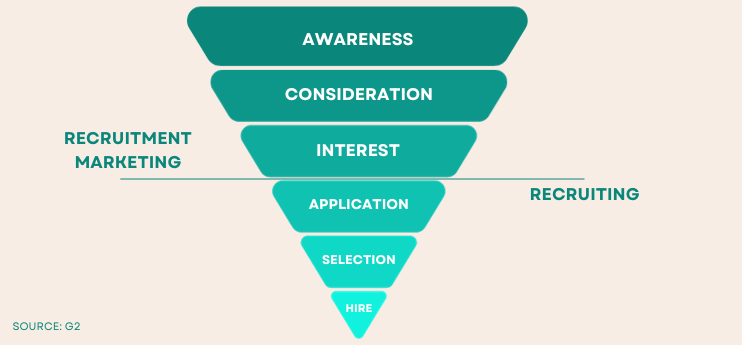 Steps to attract candidates with recruitment marketing
The following steps will help you go up the stairs and win the race of achieving high talent in your company.
If you are an HR professional or a company owner, we have the basics to introduce you to recruitment marketing.
1. Define your target audience
Understand the ideal candidates' needs, preferences, motivations, challenges, demographics, and behaviors. Use data, market research, surveys, and persona creation tools to create detailed profiles.
2. Develop your employer value proposition
Highlight the unique benefits and opportunities offered to candidates. This should reflect the company's mission, vision, culture, values, competitive advantages, and how the company can help candidates achieve their goals.
3. Choose your recruitment channels
Select platforms and mediums that align with the target audience's preferences, behaviors, and expectations. Common channels include job boards, social media, email marketing, content marketing, video, webinars, and employee referrals.
Don't forget that 50% of candidates still choose to send their CVs for jobs based on word of mouth. A good motivation to boost your efforts for exceptional recruitment marketing.
4. Create your recruitment content
Produce relevant, valuable, and compelling content consistent with the employer value proposition and brand identity. This can include job ads, employer branding videos, career stories, educational articles, infographics, quizzes, and webinars.
5. Distribute and promote your recruitment content
Give all your best to distribution.Increase visibility and reach among the target audience using both organic and paid methods. Optimize content for search engines, use social media hashtags, segment email campaigns, utilize paid ads, and partner with influencers.
6. Nurture and convert your candidates
Build and maintain relationships with the target audience and persuade them to apply. This involves regular follow-ups, feedback, addressing questions, showcasing culture and values, and simplifying the application process.
Real-life examples of recruitment marketing campaigns
Still wondering what recruitment marketing is? Why don't you check these effective examples of implementing recruitment marketing strategies by well-known brands?
Here we go:
1. Work culture – Workable
Workable, our renowned recruitment software brand, extends insightful strategies for effective recruitment marketing.
From utilizing work experiences by employees on the brand page, to social media posts of our yearly retreats and events, Workable showcases its great office life.
Being the first step in our recruitment process guide, recruitment marketing is crucial for narrating a company's culture story to attract top talent.
2. Engaging content – Newell Brands
Newell Brands personalized their career site to showcase company culture and values, enriching it with engaging content like Spotify playlists and podcasts, facilitating a deeper connection with potential candidates.
3. Creative recruitment contest – Ogilvy
Ogilvy launched a creative recruitment campaign inviting candidates to film themselves selling a brick. Leveraging social media and YouTube, the campaign offered a paid internship and a chance to pitch at a prestigious advertising festival as the prize, attracting skilled salespeople and creating a buzz in the industry.
4. Data-driven candidate personalization – Brother International Corporation
Brother International harnessed AI and talent analytics to personalize candidate experiences.
By focusing on crucial metrics, they tailored interactions to show value towards candidates' time and individual needs, enhancing the effectiveness of their recruitment marketing campaigns.
5. AI-powered targeted engagement – Land O'Lakes
Land O'Lakes launched the "Feed the Nation" campaign using AI technology to engage thousands of candidates rapidly.
Through targeted digital campaigns, they significantly increased site traffic and applications, demonstrating the power of integrated marketing strategies in recruitment.
6. In-product career invitation – IKEA
Upon opening a new store in Australia, IKEA embedded 'career instructions' within the packaging of their products, inviting customers to "assemble your future" with IKEA.
This creative approach not only led to the hiring of 280 enthusiastic brand admirers but also showcased a unique, personalized way to reach potential candidates right in their homes.
Now you have the knowledge and effective examples to guide your company in attracting top talents who are willing to work with you even before you post the job brief.
We are sure the airport guy already knows about them.
Frequently asked questions
What is recruitment marketing?

Recruitment marketing is a dynamic fusion of traditional marketing tactics and HR methodologies. Its main objective is to strategically position a company's brand to attract and engage potential employees, optimizing the candidate journey from awareness to hire.
How does recruitment marketing differ from recruiting?

Recruiting is a more direct approach, focusing on filling specific vacancies by identifying and hiring candidates. On the other hand, recruitment marketing takes a broader perspective, emphasizing long-term strategies like employer branding, content dissemination, and candidate engagement to create a continuous talent pipeline for future opportunities.
What are the main components of recruitment marketing?

The core elements of recruitment marketing encompass content marketing, email nurturing campaigns, talent network cultivation, social media recruitment, candidate relationship management, and a strong emphasis on employer branding. Together, these components create a cohesive strategy that promotes a company's ethos and attracts potential talent.
How can real-world examples help in recruitment marketing?

Real-world examples serve as tangible blueprints for success, showcasing how renowned brands effectively leverage creative and strategic recruitment marketing campaigns. By analyzing these examples, companies can gain insights into innovative strategies, avoid common pitfalls, and adapt best practices to their own unique contexts.
Why is understanding the target audience crucial in recruitment marketing?

Knowing your target audience is the foundation of effective recruitment marketing. By deeply understanding their needs, motivations, and aspirations, companies can tailor their messaging, select the right marketing channels, and create resonant content. This ensures that the recruitment strategy resonates with the right candidates, making the hiring process more efficient and successful.