Recruiting In The Weeds: Cannabis Industry Challenges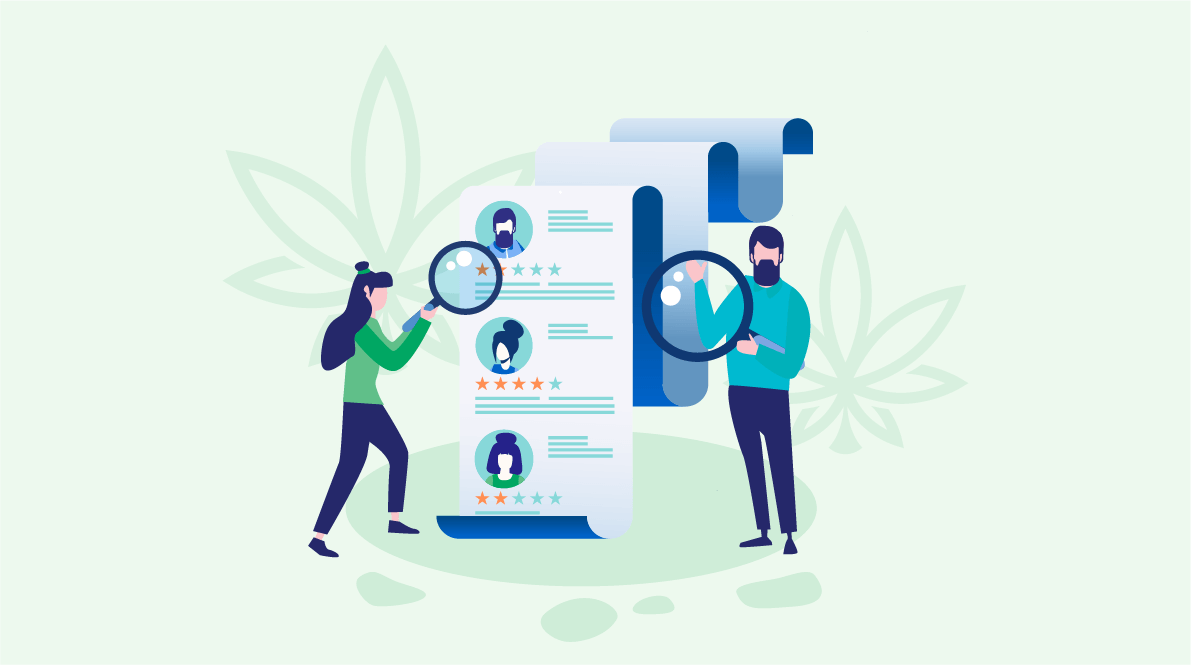 Pot is popular. In the recently-legalized Great White North, the cannabis market could be bigger than beer – which is saying something for Canadians.
But it's not all money and mellow moods for cannabis companies. In addition to product restrictions, supply shortages, and other cannabis industry challenges, they're dealing with emerging candidate concerns. From the stigma of working with a previously-banned substance to concerns around expertise and security, many retail stores and product producers are in the weeds when it comes to hiring great talent.
Let's break it down with a look at current market forces and challenges in the cannabis industry when it comes to engaging candidates, and how pot purveyors can come out on top.
Disclaimer: Keep in mind that cannabis legislation may vary from state to state or country to country. You should be familiar with your local applicable legislation and adjust your recruitment strategy as needed. Workable assumes no legal liability or responsibility nor makes any warranties that the content complies with local applicable cannabis rules and regulations. Workable will not be liable for any special, indirect or consequential damages in connection with the information contained within this content.
The move to legal marijuana
On October 18th, 2018, the Canadian government legalized marijuana. It wasn't a free-for-all: While adults may possess up to 30 grams of legal cannabis (and share this cannabis with others) in public, standard smoking laws still apply – offices and restaurants will remain bastions of Canadian politeness unsullied by rings of smoke. Users can also buy dried and fresh cannabis along with cannabis oil from provincially-licensed retailers and grow up to four cannabis plants per household for personal use.
As noted by Global News, marijuana laws are still evolving: Health Canada confirms that companies will be permitted to sell edibles no later than October 17th, 2019. Things are moving more slowly in the United States – despite increasing pressure on government agencies, there's no confirmation of when (or if) pot will be legalized here.
But in the true spirit of weed-inspired "things are all connected, man" theories, Forbes suggests one that's not too far out: The largest cannabis company in the world, Canopy Growth, just cut a multi-billion dollar deal with an American medical marijuana firm. It's not exactly conclusive, but the big money being thrown around here suggests that stateside MJ selling may be closer than you think.
Retail forces
There's big money in marijuana. Research firm ArcView predicts a $4.1 billion dollar market for edibles alone by 2022, while MarketWatch points to a 16.82% compound annual growth rate for medical marijuana (MMJ) over the next five years.
As noted in the National Post article above, MMJ retailers enjoy top-tier revenue per square foot at US $974, ranking above specialty stores like Whole Foods but below market giants like Costco. In Toronto, weed shops are averaging $50 per transaction — what people want depends on the time of day, neighborhood, etc. — and they have no trouble finding new customers. Even with 100 shops in the city, industry insiders say the Greater Toronto Area (GTA) could easily handle 1000.
Don't let the rosy numbers fool you: There are unique cannabis industry challenges. According to the Financial Post, dispensaries in British Columbia which previously operated in the grey market are facing pushback from customers who aren't happy with the limited variety of cannabis strains on offer or the price point. Because operating a legal dispensary comes with government oversight, vetting and the need for standard operating procedures (SOPs), the range of available products is smaller while the prices are higher — between $11 and $20 CAD ($8-$15 US) per gram. That's a big hit to consumer wallets, considering grey market strains range from just $6 to $12.
Hiring is one of the cannabis industry challenges
To keep pace with increasing demand, companies are looking to bolster their weed workforces. As noted by the Windsor Star, Leamington, Ontario-based pot grower Aphira hopes to fill 130 jobs for their new greenhouse expansion, while CBC points to a new program designed to train Indigenous Nova Scotians for careers in cannabis.
Despite the fire lit by legalized marijuana markets, however, many companies are struggling to fill pot positions. Their biggest challenges?
a) Lack of relevant experience
With the MJ market in its legal infancy there's no previous, measurable experience. As a result, companies often find potential staff who have a vested market interest but lack the necessary skill set.
b) Rapidly changing markets
Speaking of markets, the cannabis landscape is constantly changing. Edibles like "weed beer" are in development, but most first-gen versions taste awful and may not have the longevity to survive in alcohol-dominated entertainment spaces. The jury is also out on long-term ROI as companies look to find the ideal price point for cannabis products, making this a risky bet for stability-seeking staff.
c) Technological limitations
Most recruiting platforms and social media sites don't let companies filter candidates by weed-related experience, making it difficult to track down potential employees. Plus, advertising online can run afoul of laws in some US states even if legal in others.
d) Public perception
There's still a stigma attached to marijuana and its use. Who wants to work for a bunch of potheads?
3 ways to find better weed workers
How do companies bridge the blunt-force employee gap?
a) Look for skill synergies
As noted by Canadian Small Business Women, the lack of cannabis-related certifications and degrees makes it difficult to evaluate relevant experience. But according to Melissa Golden, senior executive recruiter at cannabis-specialized recruitment agency HerbForce, "there are transferable skill sets from industries like agriculture and pharma that link directly to cannabis."
In that spirit, find a job description in sectors such as the ones mentioned by Melissa, and identify the skills and backgrounds (whether directly related or transferable) that would apply readily to the position you're hiring for. For instance, the skills for an agricultural or farm manager can easily apply to that for a master grower. Also, remember there are numerous job descriptions that transcend industry, such as in human resources, finance or even sales and marketing. You can also consider the potential contributions of a candidate without the ideal background you're looking.
You can also create hiring practices that align with comparable industry standards such as in the aforementioned sectors. This means applying the usual steps in the recruitment process, including background checks and candidate vetting, in-depth interviews that assess both practical knowledge and essential soft skills.
b) Talk up compensation
Some job seekers are reluctant to take on work with cannabis producers and retailers because they're worried about the future of the industry. As noted by Caitlin Krapf, VP of HR and Organizational Development for Ontario-based weed-beer brewer Province Brands, while "top-tier scientists are in high-demand, some of the engineers were more 'risk-averse'." While limited experience with edibles plays a role here, there's also a sense of uncertainty.
The solution? Lean into the growing market and talk up compensation: As a recent Force Brands report points out, the cannabis sector offers the most generous raise and benefits structures of all consumer packaged goods (CPG) sectors. Intangible compensation can include, for instance, the opportunity to work in a rapidly evolving sector that values innovation and new ideas.
c) Make it OK to talk about it
As noted by Dana Leavy-Detrick, founder and director of the cannabis-focused career consulting service Canna Career Partners, many candidates are concerned about revealing any cannabis-related experience on their resume, especially if it relates to pre-legalization troubles with law enforcement. In addition, "many candidates across the board question how to represent their prior/personal cannabis experience and knowledge across their resume, cover letter and LinkedIn profile."
The stigma is hard to shake on both sides, and that includes those potential candidates who may have the necessary or desired skills but are wary of consuming, selling or marketing pot-based products. New markets have another challenge: the lack of industry standards and tried-and-true practices by which you can evaluate candidates, particularly those with little to no relevant experience. This is normal for a market that didn't exist above ground until recently.
To overcome that, identify those candidates with relevant experience as a follow-up to tip #1 above, and second, customize outreach to those potential (and particularly, passive) candidates. Third, don't be too quick to stigmatize candidates. Finally, be clear that relevant and transferable background in cannabis can be a plus rather than a deterrent, particularly noting that this is a new and promising market and you're a legal company in your area.
Public perception of cannabis is changing
Melissa notes that "in the last 6-12 months, the energy around recreational and medical marijuana has drastically changed and now more people are not only more open to it but are eager to join this young, thriving industry."
The reality is, the cannabis market is on fire. Legal dispensaries, pot growers and edible developers aren't short of customers — but many are struggling to find, hire and retain skilled staff. This isn't a new thing – every new industry has its growing pains, and they have overcome them by applying standard strategies that work no matter the industry, and unique processes specific to the sector. It's about identifying those unique cannabis industry challenges as outlined above, and establishing measures to overcome them.