Innovative Greeks provides job posting tools to industry leaders and tech startups
Innovative Greeks' new job board, built and powered by Workable, enables member companies in their community to post jobs, find candidates and make great hires.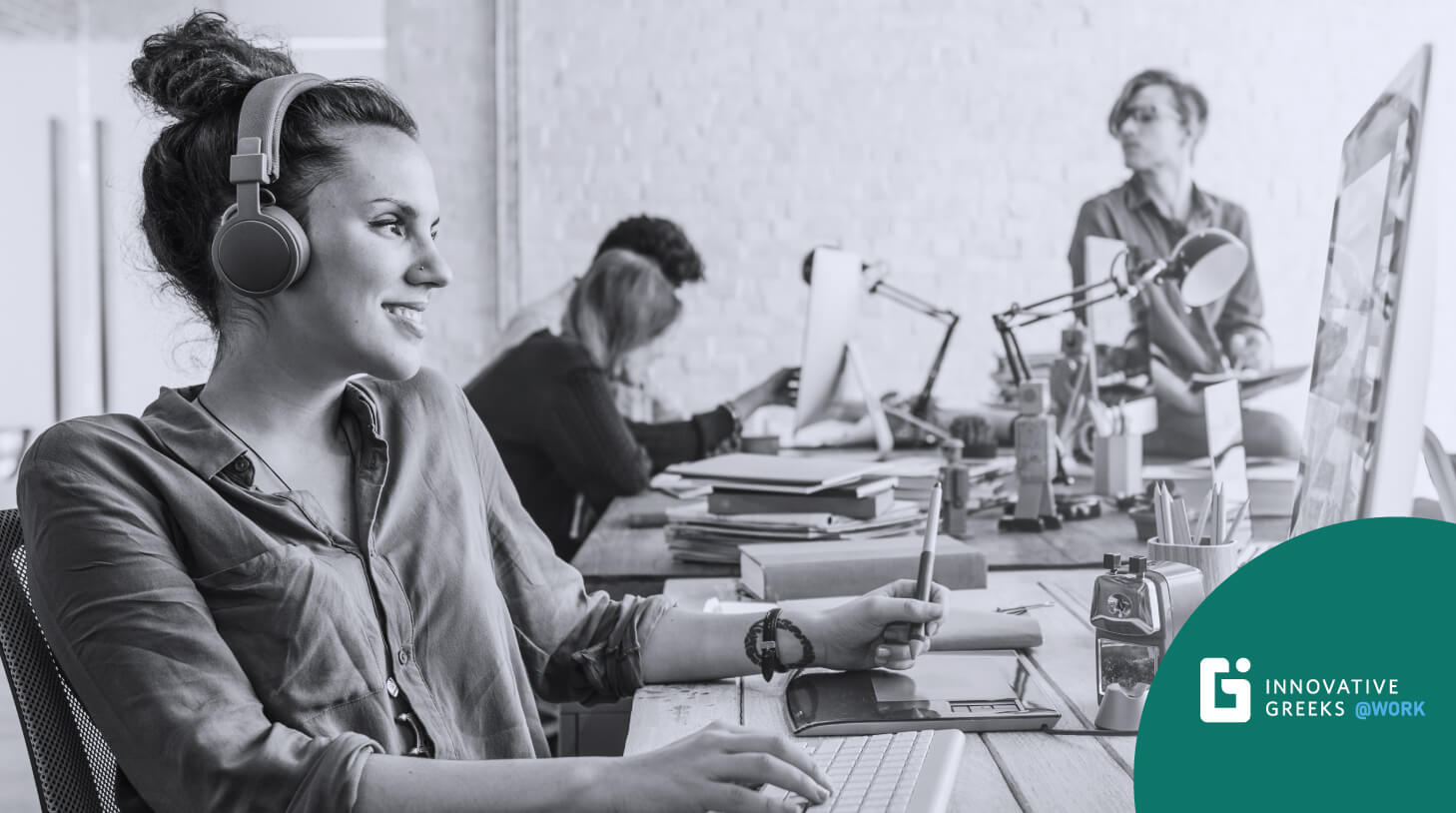 The challenge

The solution

Bring together innovative Greeks from all over the world to work for some of Greece's largest industries and most dynamic startups
Improve companies' ability to access the people they need and widen employment opportunities for high-level human capital in Greece and abroad
Support hundreds of Greek enterprises and startups in creating 50k jobs by 2026
Help growing and innovative companies act quickly to find and hire the right candidates for key and high competency roles

Job posting system which member companies can use for free to automatically repost job openings and receive the best candidates
Intuitive job curating to reduce admin time while controlling job quality in order to create massive attraction potential
Resume parsing makes it easy for candidates to apply
Branded to Innovative Greeks for a seamless member experience
Managed by Innovative Greeks' team to ensure the supply of relevant, high-quality tech jobs
We partnered with SEV – the leading employer and business association in Greece since 1907 – to launch Workable's first branded job board, IG@work, created in support of SEV's Innovative Greeks initiative. Building on the success of Workable's own job board and our expertise in the recruiting software space, we designed the IG@work job board to provide value to companies and individuals in the Innovative Greeks community.
Within a month of launch, hundreds of jobs have been posted, candidates are applying and more companies are joining the board every day. We spoke with Vassilis Katsantonis, Associate Advisor for Industry, Growth, Technology & Innovation at SEV about his experience launching a brand new job board.
"The aim of IG@work is to attract talent, from Greece and abroad and to support Greek enterprises and startups in finding specialized cadres," says Vassilis.
"IG@work is a user-friendly platform which collects high quality job openings that are available in industry and tech startups, and connects them with people searching for repatriation opportunities, or simply for their next professional steps in Greece."
Why SEV wanted to create a job board for Innovative Greeks
SEV wanted to offer more to members of the Innovative Greeks community, helping them find specialized jobs and great career opportunities by overcoming existing labor market rigidities. While there are other successful jobs boards in Greece, Vassilis saw an opportunity to provide something targeted to the Innovative Greeks audience specifically.
Vassilis gave his take on the job board space in Greece, stating, "Several successful job boards have been operating in Greece where the job postings of the very small enterprises (up to 9 employees) prevail, because they represent the vast majority of all Greek businesses. However, there was a clear need for larger industry leaders and tech startups to reach their appropriate audience with a clear focus around the high competency jobs they hire for."
He adds that, "Also, our fast growing startup ecosystem needed a reliable and cost-free service that would allow them to address their potential employees effectively, a crucial parameter for scaling up."
"Our fast growing startup ecosystem needed a reliable and cost-free service that would allow them to address their potential employees effectively, a crucial parameter for scaling up."
As a key stakeholder of the national innovation ecosystem for years now, SEV knows that, "when you run a small startup and you just acquired a new customer who is critical for your business continuity, you wish you could have on your desk the next morning a dozen of the very best applicants for a new job opening, so you can start the interviews from the very same day. It's as simple as that."
How Workable helped
Workable was the perfect fit for enabling SEV and Innovative Greeks to meet their challenges head on. With over 10 years of experience building software, working with small businesses, and enabling organizations to find and hire great candidates, we came up with a solution: Workable's first branded job board.
The result for Innovative Greeks is that "the branded job board gives the possibility for all of its members to automatically repost their job openings and to take advantage of the higher outreach it can achieve for them in terms of candidates. Anyone who wants to be sure that they can attract appropriate and enough candidates has only to publish their opening to their careers' webpage. Even if their company careers site has zero visibility or traffic, IG@work will manage to communicate job openings to thousands of possible candidates around the globe."
"IG@work will manage to communicate job openings to thousands of possible candidates around the globe."
The benefits for their community have been clear and Vassilis has identified three ways their branded job board helps their community:
"First, our job board has the unique value of hosting and aggregating openings from the most dynamic and innovative Greek enterprises across industries."
"Second, it can create further attraction of candidates who are interested in working for a fast growing scale up, helping to spread the message of Innovative Greeks."
"Third, it aids our mission of repatriating Greeks and promoting the creation of 50,000 jobs by 2026. IG@work is expected to bring in new candidates and possibly back many of those who left the country a decade ago because of the economic crisis. This means that will add on new extraordinary CVs to the pool of potential candidates that IG@work members can reach out all by themselves."
He goes on to add that "all of this works for community members for free, achieving multi win-win situations."
Workable built and packaged these job board tools in a user-friendly format. SEV is supporting the Innovative Greeks initiative by controlling which companies are approved for posting and reviewing posts to provide feedback to the recruiter if needed. All this contributes to ensuring the quality of jobs posted is high and the platform contains job openings that make it a prime source for all high skilled candidates that are starting a job search.
Whether members have their job posts synced automatically, or chose to post manually, applicants are delivered directly to them so they can act quickly to secure the best candidates.
Success so far
There's been a great reaction from member companies in the short time since IG@work launched.
The branded job board has seen strong adoption early on as "almost 120 companies have already been registered to the IG@work with more than 500 online job openings. New start up companies are joining every day as we continue rolling it out to the 700+ startups of the national registry."
Vassilis projects that, "By September the platform will be operating at full scale and will probably be publishing some 100 new jobs every day, hoping to receive many more candidates' applications."
"Almost 120 companies have already been registered to the IG@work with more than 500 online job openings."
Best of all, members only stand to gain from the continued success of IG@work. "It's absolutely free, with no cost, no extra or hidden charges, all members of the platform will enjoy the collective attraction it can achieve for them."