How to track candidate referrals with Workable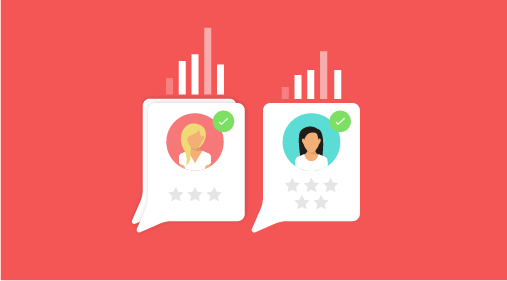 Employee referrals are often cited as being among the top sources of hire. Your employees know what kind of skills and culture fit you're looking for, so involving them in the recruitment process helps you get great candidates with minimal effort. But each company's employee referral program is different so how do you know that yours works? Tracking candidate referrals in your company helps you ensure you benefit from the power of your employees' networks.
A candidate referral report can be used to answer questions like:
What percentage of candidates who entered a position's pipeline were referrals? What's that percentage across all positions and departments?
What percentage of referred candidates were hired?
What percentage of referred new hires left the company within their first year? How does that percentage compare to non-referred hires?
How many people has each employee referred in one year?
By answering these questions, you can:
Determine whether referred candidates are more qualified than candidates who come through other recruiting channels.
Make a case for investing more resources in building and reinforcing your referral program.
Reward star referrers (employees who have referred many new hires or highly qualified candidates,) so you can boost retention and job satisfaction.
Looking for better reporting analytics? Workable's reports will refine your recruiting process. Request a demo to learn more today.
How does Workable track candidate referrals?
Workable tracks referrals automatically, eliminating the need for the manual entry of names and dates. At a glance, Workable's Referral Breakdown report will show you:
A list of all candidates who've been referred within your specified time frame
The jobs that candidates have been referred for
The employees who referred candidates
Each referred candidates' stage within the pipeline
Whether or not referred candidates have been disqualified
The date and time candidates were referred
When you're logged in to Workable, generate a report on your referrals by clicking the button in the main menu bar and selecting 'Referrals Breakdown Report'.

Use the drop-down options to filter the report and specify the desired timeframe. Arrange the data in ascending or descending order by selecting the arrows at the top of each column.
Here's what a sample candidate referral report looks like: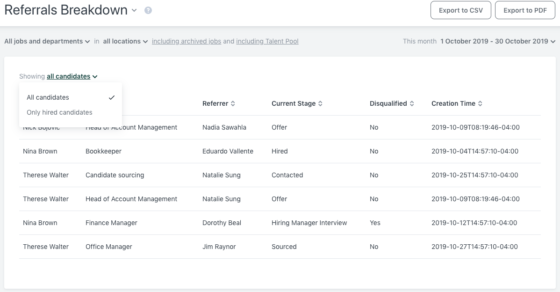 Click on the available export options and receive the results in your email within a few moments.
Tracking referrals is just one way Workable supports your referral program. It's easy to refer candidates and request referrals via Workable's platform. Requesting a referral is a simple part of setting up a job; just send the email provided by Workable, or edit it first to add any extra details. Your team members can then refer candidates by entering a name and location in Workable's referral tool, which will find the rest of the candidate's details, including resume, contact details and more.
Don't miss our ultimate employee referral guide