How to hire seasonal employees
When hiring seasonal employees, there are important tips to keep in mind. Learn where to post jobs for temporary employees and how to evaluate candidates.
Picture a retail store during Christmas time. And now a ski resort in the middle of the winter. For some industries, hiring needs fluctuate from season to season. That's why seasonal employees are a key investment for companies that want to be productive during peak demand.
Here's a guide on how to hire seasonal employees:
Before hiring seasonal employees
Make sure you need to hire temporary staff and not permanent employees. Ask yourself:
Do we have peak periods during the same time every year? (e.g. holidays and tax time)
Do we need more employees because of an increase in business (e.g. opening a new store) or because of a temporary staff shortage? (e.g. due to maternity leave)
Minimum wage
Pay regulations (overtime, nights, weekends)
Requirements to offer health insurance
Labor regulations for teens aged 14-17
How to attract seasonal employees
Start your hiring process well before you reach your peak season. For example, summer resorts could begin their recruiting efforts in February or March and aim to close all hires by May.
Here's how to start:
1. Write targeted job descriptions
Your job ad should clearly state that you're hiring seasonal employees. It's best to mention that in the job title. Here's an example:

In your job description:
Be clear about requirements. Most positions don't require relevant work experience. But, make sure to highlight necessary certifications (e.g. for a lifeguard.) Also, describe physical requirements (e.g. if employees need to stand for long hours or carry heavy items) so that qualified candidates apply.
Here's how Guest Services lists requirements for a Ski School Director at Giants Ridge:
Note how specific Guest Services is when listing physical requirements for the job: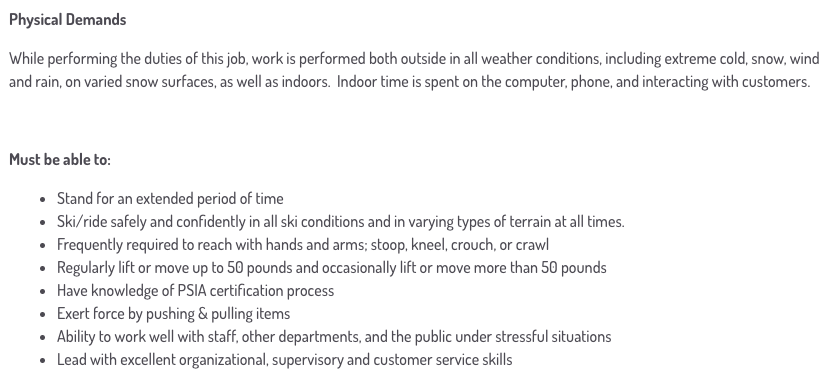 Mention work schedule. Candidates want to know how many days and hours they'll be working and whether there's any flexibility around work schedules. By being clear about working hours, you avoid dealbreakers and scheduling conflicts.
This is especially important for retail seasonal employment. Macy's describes its available shifts for Seasonal Customer Service Associates in this job ad:

Explain your compensation structure. Being vague about whether you're hiring hourly or salaried employees will turn applicants off. Clarify how (and how much) you'll pay your employees and mention if the position is commission-based.
Here's how YMCA Camp Orkila describes its compensation and benefits package for Outdoor Educators: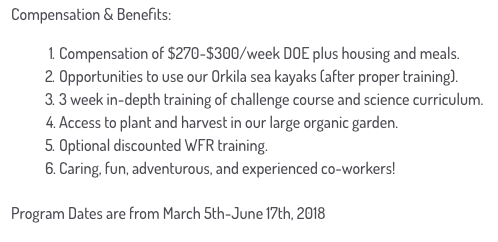 2. Select best places to advertise your seasonal jobs
Large, global job boards include many listings for seasonal jobs that job seekers can find by searching on the term "seasonal" or applying filters :
You can also post your job ads to websites dedicated to seasonal employment:
Bonus: Check our list of the best job sites in the UK (Free and Premium)
If you're looking for local candidates, consider advertising on local radio stations. You could also place print ads:
in schools and colleges;
in community centers;
or outside of your stores, if you're in retail.
How to evaluate and recruit seasonal employees
One of the biggest challenges with seasonal hiring is the tight timeframe: you need to hire staff before busy season begins. Optimize your recruiting in a way that reduces time to hire, without losing quality of hire. Here's how:
Organize recruitment events
Events will help you meet potential candidates en masse. You can host events in various locations to reach local candidates. Advertise your event and remind interested candidates to bring their resumes or completed application forms beforehand.
Make sure to schedule and host your recruitment event in advance so that you have enough time to screen candidates.
Interview candidates in groups
Group interviews can speed up the hiring process, especially if you're recruiting more than one employee for the same position (e.g. salespeople for your stores.) This will also be helpful if the role involves communication, presentation and collaboration, as you'll have the chance to see how candidates interact in group settings.
Hire for culture fit, not just skills
Don't overlook culture fit simply because you're hiring temp employees. Seasonal employees:
interact with customers;
promote your products and services;
and represent your company.
Look for candidates who are not only able to do the job, but understand your values and business objectives and will be advocates for your brand.
Here are some examples of culture fit interview questions to ask candidates:
What do you hope to achieve during your time working here?
What would make you quit a job in the first week or month?
What would you do if a customer approached you with questions right before the end of your shift?
Looking to streamline your hiring and interview process? Request a demo or start a 15-day free trial of Workable's applicant tracking system.
How to retain seasonal employees
The way you treat seasonal staff can make or break your employer brand. Here's how to retain seasonal employees and increase the chances of them returning next season or recommending your company to others as a potential place to work:
Offer end-of-season bonuses
Employees who quit during peak season create gaps in your workforce when you want to be as productive as possible. To avoid recruiting from scratch, consider offering an end-of-season bonus. This will motivate employees to stay with your company through the entire season.
Lagoon, a summer fun park in Utah, lists an end-of-season bonus in its job descriptions to attract seasonal employees: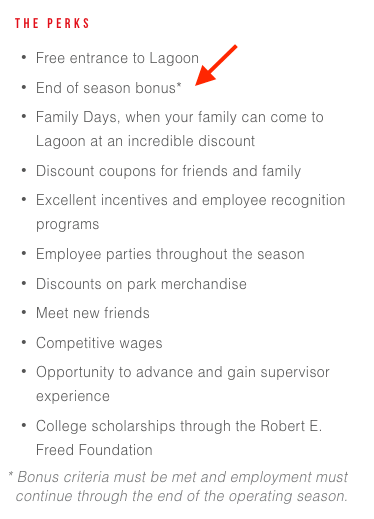 Offer loyalty bonuses to returning staff
Former employees who are already familiar with the job and will require less training for the next peak season. When you begin hiring seasonal workers, attract former staff by offering them an extra bonus. Or, proactively reach out to them to learn if they're available.
Also, when suitable, promote past employees to senior positions. Or, offer permanent jobs to high-performing employees, if that makes sense for your business. Advertise these tactics to motivate applicants who are not only looking for a temp position, but wish to develop their careers.
Amazon advertises how one employee kickstarted his career with the company once he took up a seasonal job:
When he needed a new path in the workforce, Todd turned a seasonal job into a career https://t.co/M41jzvo4ZY

— Amazon News (@amazonnews) 7 November 2017
Create realistic expectations for candidates
While you want to entice potential hires with an engaging job ad, don't sugarcoat responsibilities. Otherwise, you risk attracting non-qualified candidates. For example, work at a retail store during holidays can be chaotic, so it's best to hire candidates who fully understand those job conditions.
Here's how Macy's describe the role of a Seasonal Jewelry Sales associate: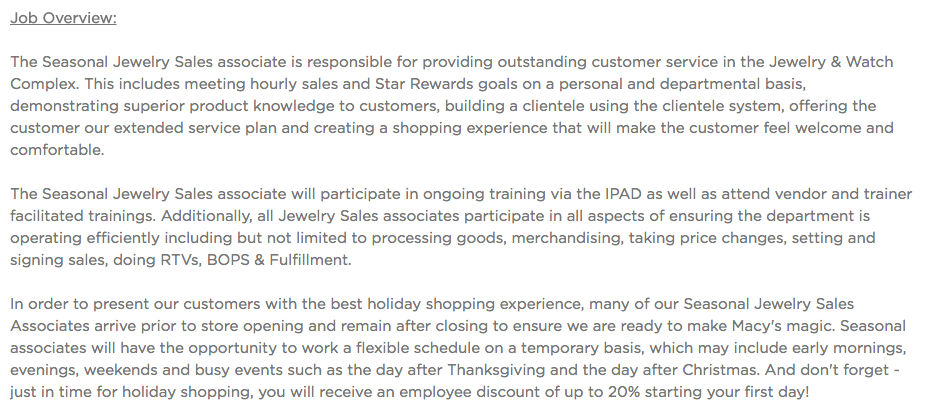 Offer creative benefits or perks
Be honest about what the role entails, offer benefits that will make up for long working hours and deliver on what you promised.
Above & Beyond Alaska, a company that organizes trips in the wilderness, describes the employee experience and explains how they try to balance work and life for their seasonal employees: