Zego optimizes hiring processes with Workable & Hired
Learn how Zego, led by its Head of Talent Acquisition, Olivier Parent, integrates Workable and Hired to optimize its hiring process. Get insights into their strategies, challenges, and the key features they utilize to ensure inclusive and efficient recruitment.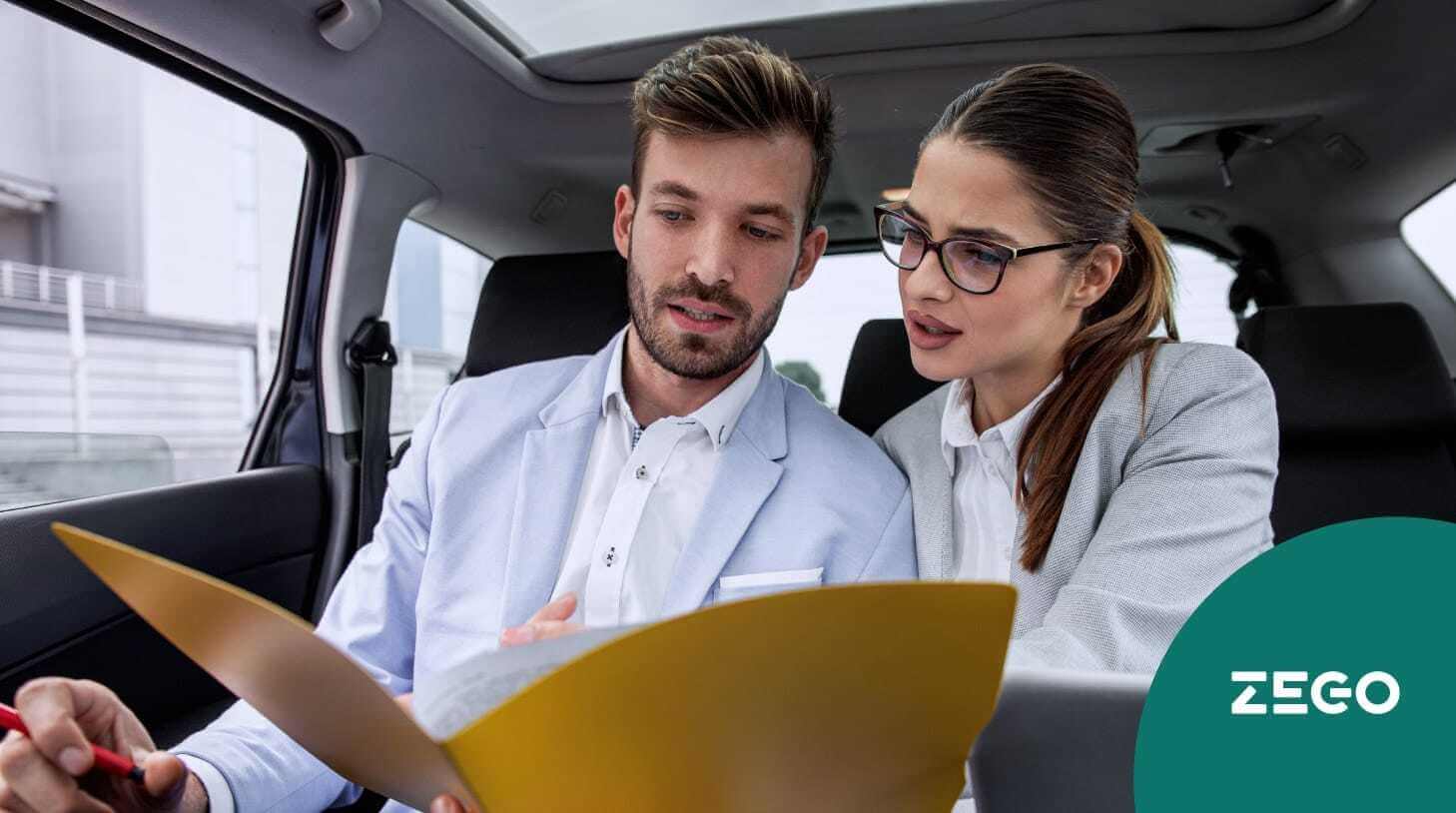 About Zego's hiring leader
Olivier Parent, who has served as the Head of Talent Acquisition at Zego for nearly three years, possesses more than 10 years of expertise in growing talent departments.
Olivier's extensive experience is predominantly rooted in nurturing talent teams, particularly within the dynamic startup and scale-up realm, with a primary emphasis on enhancing efficiency and cost savings for Gig Economy drivers.
About Zego
Olivier: "Zego, an insurtech company, initially gained recognition by providing motorbike insurance solutions to gig economy professionals. However, it has since broadened its scope to include various technology-enhanced commercial motor insurance offerings.
"We're a commercial motor insurer on a mission to save people time and money. From nationwide taxi fleets to self-employed scooter delivery riders, our customers are our driving force. We work hard to make insurance simple, affordable, and stress-free for every one of them.
"When we started back in 2016, we knew that traditional insurance held businesses back. It was too complicated, too time-consuming, and it wasn't priced fairly. So we set out to change that, building insurance products to empower professional drivers throughout the UK, Europe, and beyond.
"So far, we've raised over $200 million in funding, and we're proud to hold the title of the UK's first Insurtech Unicorn (a private company valued over $1 billion). We've grown from a scrappy start-up into an industry-changing organisation. And there's plenty more to come."
How did you start working with Hired? How did you start working with Workable?
Olivier: "I brought Hired.com on board last year following successful use of the tool when I was working at Zopa. Workable was already the ATS implemented at Zego when I joined which worked out perfectly since Workable and Hired have an easy-to-implement, bi-directional integration."
Comparing Zego to non-integrated companies on Hired
| | | |
| --- | --- | --- |
| | Zego | Non-integrated companies |
| Interview requests to URG rate | 17.8% | 10.6% |
| Average days to first interview request | 6.34 | 8.74 |
| Average days from interview request to hire | 40 | 42 |
Zego stats from Workable
25% year-over-year reduction in Time to Fill
Over 900 hours (112.5 working days) saved with self-scheduling
70,000+ automated actions to deliver critical information to candidates
200+ requisitions tracked keeping Zego on schedule and within budget
Thousands of new candidates each month through sourcing, job boards, referrals and internal applications
What has your journey with AI looked like? Were you using AI before it became a hot topic?
Olivier: "It's still very new but right now, we mostly use AI to optimise the wording of our messages outreach. AI technology is able to create unique messaging as per our inputs. These human-like messages give us a template to personalise further and prevent applicants from slipping from the hiring process due to poor engagement."
How has AI streamlined your hiring process?
Olivier: "It's a bit too early to tell. In the future, a goal of ours is to use AI to conduct and improve particular components of the recruitment process.
"For example, the interview process can be streamlined with AI. By using conversational AI technology we could conduct initial interviews and shortlist applicants based on predefined criteria.
"As AI is still only a tool, this is something to explore when we're positive it can be used ethically."
What are some of the challenges you typically face in the hiring process?
Olivier: "This year the challenge is to face a volume of inbound job applicants.
"While too many applicants could be thought of as a "good" problem, it creates new issues when the majority are poor matches and the team's time is consumed searching for qualified candidates.
"From improving job description readability, enhancing employer brand, and prioritizing outcomes over activity, there are strategies to handle a flood of applicants."
How have Workable + Hired been able to solve for them?
Olivier: "Workable helped with "killer" questions. We use knock out questions as a strategic tool in our hiring process to efficiently filter out inbound job applicants who do not possess the essential skills or qualifications required for the job.
"For example, imagine a company like Zego is hiring for a senior engineering role that requires SQL experience. If a candidate doesn't have this experience a knockout question about this skill can help to deprioritize them. Zego still collects their applications and can resurface the candidate in the future through Workable's AI when a suitable role does open up.
"By doing so, they save time and resources for the hiring team. This approach helps ensure that the most promising candidates progress to further stages of the hiring process, ultimately leading to a more focused and efficient recruitment process, reducing the likelihood of hiring mismatches, and potentially improving the quality of hires.
"Hired's AI-driven platform matches candidates to employer roles, approves candidates to go live based on marketplace demand, recommends similar candidates, and more. Hired recognises AI technology can speed up sourcing, screening, and filling roles while being aware that these tools can't fully replace human expertise.
"To maintain transparency and ensure bias-free hiring, Hired regularly conducts AI audits. These are technical assessments of the organisation's methods to prevent, detect, and correct algorithmic bias."
How does a tool like Hired address / mitigate bias in AI?
Olivier: "We used a sprint approach when it comes to DEI. The first week of sourcing efforts is only focused on underrepresented groups before we open up the search. The DEI features in Hired's tech hiring platform really helped us for that."
Available DEI features on Hired
Zego and all other Hired customers have these DEI hiring features handy to surface underrepresented talent without removing relevant matching candidates.
With DEI discoverability on, interview requests to underrepresented candidates increase by nearly 30%
Bias reduction mode removes demographic details to lower risk of unconscious bias
Salary bias alerts foster transparent compensation by notifying employers when they offer a lower salary than usual
Skills assessments standardise the hiring process and promote skills-based hiring
Available DEI features on Workable
Workable has a full suite of DEI features to enable companies to build inclusive hiring practices.
What advice would you give to other organisations considering using AI in their hiring process?
Olivier: "Use it as a tool to optimise the process, not as a way to replace human decision-making. To get started, focus on using AI for administrative tasks."
Need a few ideas?
Write Boolean strings
Draft questions to ask the hiring manager
Write a candidate a compelling email
Get insights on using ChatGPT for recruiting in this blog. Use AI as a tool to ideate and iterate, cutting down on time-consuming tasks. That way, you can focus on what's really important – the human-centric part of recruiting that maximizes impact.
Related: Check out Workable's own guide to coaching hiring teams in using ChatGPT
Are you using any of Workable's AI tools?
Olivier: "Yes, resurfacing candidates enables us to stay in touch with the best of the best in our talent pool. We find a lot of great candidates. Vetting them can take a lot of time and we may not have a spot for them when they first apply.
"We can resurface them with the click of a button to shortlist past candidates who had great evaluations, positive sentiment from the hiring team, and are relevant to our currently open roles."
Resurfacing past candidates also helps with:
Reducing costs by immediately filling your hiring pipeline
Improving time to fill by bringing back candidates you've already vetted
Engaging the hiring team by showing how their input impacts future hiring
Can you share how these tools complement each other in your hiring process?
Olivier: "Hired brings a niche-engaged pool of candidates. We've found the candidates on Hired to be highly vetted and intentional. Hired partners with community-based organisations who share our vision for a future where everyone has an equal opportunity to find a job they love. Our partnerships allow us to amplify our values, and give companies and job-seekers a head start towards growth.
"Workable helps us track the highly vetted candidates that we find through Hired. They come into Workable from Hired seamlessly, where we can evaluate them with our hiring team and move towards an offer. Workable helps us exceed our hiring goals, keeping our headcount full and our recruiting within budget while saving us time."
What features do you appreciate the most from each of these tools?
Olivier: "Good integration between the two tools. Workable and Hired have made it easy to coordinate workflows between the platforms. By pulling roles from Workable into Hired and avoiding re-entering role information, we've been able to save hours of time. In addition, we've improved the candidate experience by managing candidates' status on Hired through Workable."
Any final thoughts from Hired, Zego, or Workable?
Olivier: "Workable has helped over 27,000 companies make more than 1.5 million hires. Companies like Zego are able to excel with Workable and its AI tools to save themselves time and money. Whether you're hiring employee #2 or 200 new employees, Workable's scalable tools, know-how and support help you make the hires that make your business great."