From 1,018 applications to 2 new hires: Tuff Growth's hiring process
Because of the nature of Tuff's growth marketing work, we spend a lot of time thinking about numbers. What is the conversion rate? What are our strongest channels? What can we do better next time?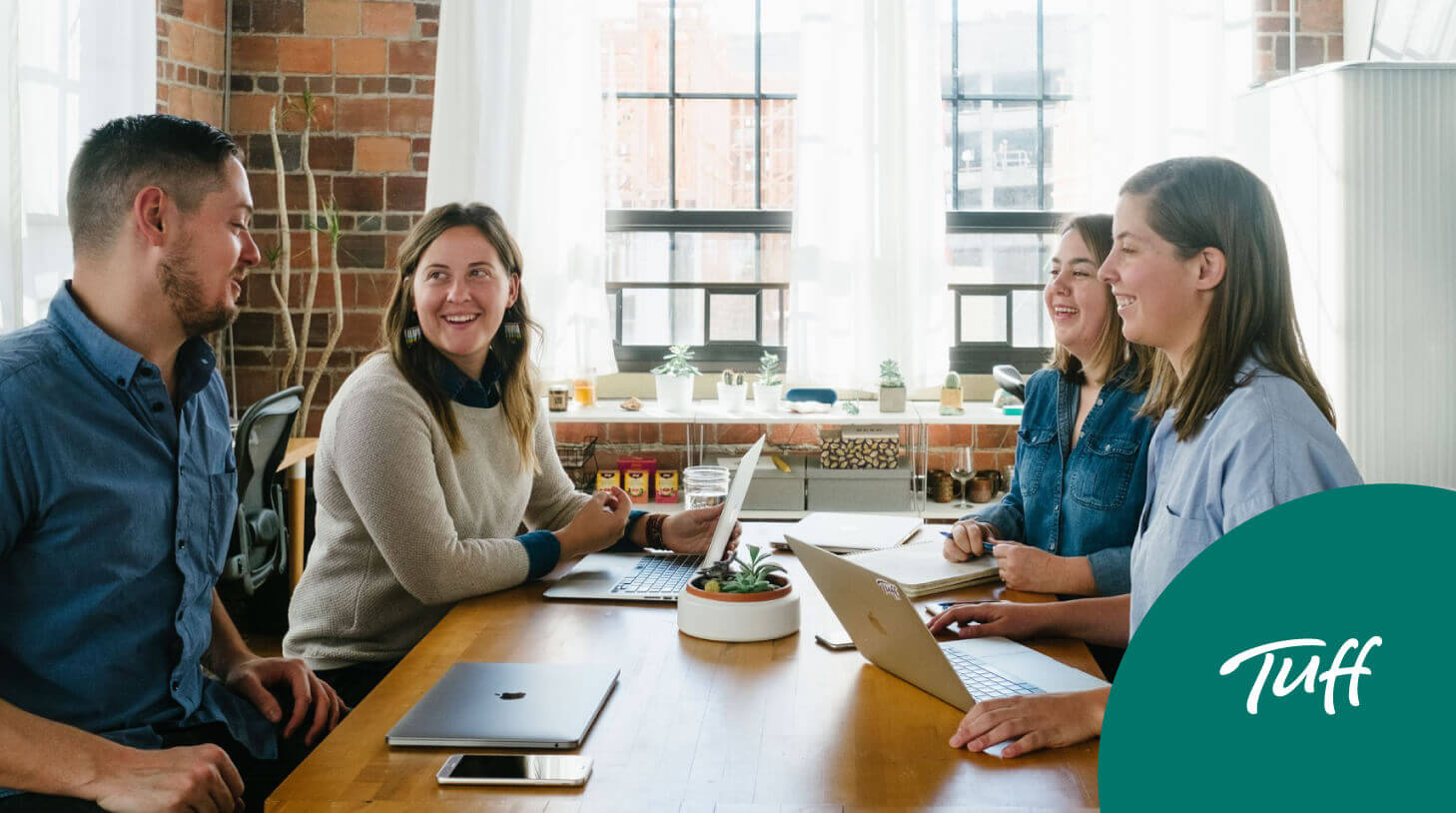 Note from Workable: This is a guest post from Tuff Growth. We thought it was a wonderfully detailed breakdown of their hiring process that deserves to be read by many. Enjoy the read.
When it comes to hiring, we apply a similar lens. For example, you can also think about candidates being at the top of the funnel, middle of the funnel, and bottom of the funnel.
In February, we opened up two roles on the Tuff team:
SEO Strategist
Growth Marketer
Our first step was laying out our hiring strategy. We decided to work with a Talent & People Ops consultant, Mary, from Intention Consulting. We wanted to work with an expert who could help us build a strong and tested process to find the best people for Tuff.
For the SEO Strategist role, we needed a channel specialist who could help our clients increase their organic reach. We work with a diverse set of clients and corresponding business models so we needed someone who has broad SEO experience (rather than specializing in local SEO) and who is comfortable adapting quickly.
For the Growth Marketer role, we were looking for more of a marketing generalist. At Tuff, a Growth Marketer partners closely with our clients to understand the core of their business, their goals outside of marketing, and then get really specific on how we can help drive growth. We needed someone comfortable working closely with clients but in a more generalist role there is flexibility in how they achieve the goals depending on their background.
Here's what we learned
Specialist vs. Generalist
There is a difference between hiring for a Specialist (SEO Strategist) vs. a Generalist (Growth Marketer). The SEO Strategist role took 47 days to fill from job posted to offer letter signed. We had a more tailored skill set we were looking for. The Growth Marketer role took 29 days to fill from job posted to offer letter signed. We had clear outcomes we wanted this person to achieve and competencies we were evaluating for but there was room for more diversity in their background (i.e. content, paid search, paid social, etc.).
Process
Before these hires, we had 3 full time team members. Now, we are at 5. We learned a few lessons about the process, specifically how much to involve team members who also had a lot on their plate in terms of client work. It was important for us to create a Scorecard (more below) at the start of the process to have clear and explicit alignment on the outcomes we needed these team members to be responsible for.
Sources
We spent $553.34 on LinkedIn. In the end, the two hires came from alternate sources. We break it down more below. We would still spend the money on LinkedIn as it accounted for 80% of the applications and 50% of the interviews. Just not eventual hires.
Employer Branding
In Tuff's client work, we are very transparent and open. It's a value Mary came to recognize in our work and it opened up doors when it came to employer branding and helping qualify candidates. With her help, we ramped up these efforts on LinkedIn when we opened up the two roles, posting about our company retreat that happened while we were interviewing and tagging the Tuff team in hiring posts so people could check out their profiles before applying. The person we hired for the Growth Marketer role was a connection of Tuff on LinkedIn.
SEO Strategist hire
We posted the role for SEO Strategist using Workable, on February 6.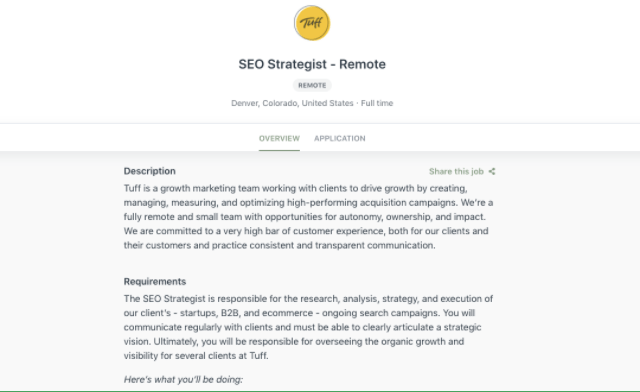 Tuff's new SEO Strategist, Derek, signed his offer letter on March 24. This hire took us 48 days from posting to offer letter signed.
We break down the interview process in more detail below (i.e. what is a topgrade interview?) but here's a breakdown of our funnel metrics:
Here are a few of our conversion rates we found interesting:
Applications to phone screen: 5.45%
Phone Screen to Topgrade Interview: 18.75%
Applications to Hire: 0.17%
Growth Marketer hire
We posted the Growth Marketer role on February 19.
Tuff's newest Growth Marketer, John, signed his offer letter March 18. This hire took us 29 days from posting to offer letter signed.
Here's a breakdown of our funnel metrics:
And, here are a few of our conversion rates we found interesting:
Applications to phone screen: 3.01%
Phone Screen to Topgrade Interview: 30.76%
Applications to Hire: 0.23%
Let's compare some of these metrics for the two roles:
| | | |
| --- | --- | --- |
| | SEO Strategist | Growth Marketer |
| Days from job posted to offer letter signed (Time to hire) | 48 | 29 |
| Applications to phone screen | 5.45% | 3.01% |
| Phone screen to topgrade interview | 18.75% | 30.76% |
| Applications to hire | 0.17% | 0.23% |
As you can see, the biggest difference is in the 'Phone Screen to Topgrade Interview' conversion rate.
People interviewing for the SEO Strategist role had a lower chance of moving on from the Phone Screen to the next step of the interview process. We did considerably more phone screens for SEO Strategist (32 phone screens) than for the Growth Marketer role (13 phone screens).
In hindsight, this makes sense based on our experience hiring for a Specialist. There are so many areas of expertise when it comes to SEO. We had a fairly specific skill set we were looking for so as we learned more about the candidate's background and the type of work they were looking to do, disqualifying a candidate or moving them forward felt clear.
Tuff's interview process:
Step 1: Create a Scorecard
The Scorecard is the foundation of the interview process we held. It is what we used to evaluate candidates at every step of the funnel. By spending an extra 15-20 minutes upfront at the beginning of the interview process, the Scorecard helps lead to a speedier process, better alignment on the team which leads to better hires, and helps mitigate bias by keeping us evaluating on the objective outcomes and skills we needed these hires to achieve and come in with.
The Scorecards we used for both roles had the same four parts:
Mission – Why does this role exist?
Outcomes – What will this person be responsible for?
Hierarchy of needs – What is need to have vs. nice to have?
Competencies – What characteristics are most important?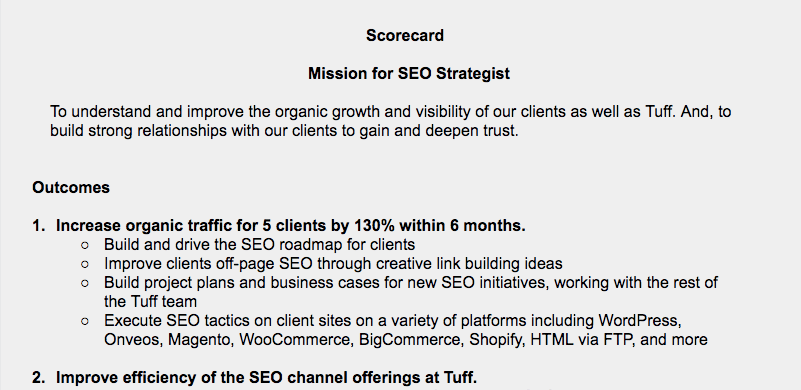 Step 2: Post the job!
While this might seem like the first step, it is so important to have clear alignment from the team that it comes after creating the Scorecard. We used Workable as our Applicant Tracking System for a few reasons. As a small (but mighty!) team, Workable was at a good price point for Tuff and offers a 14-day trial that we used to make sure Workable was the right system for us. Workable also posts your job for free on a number of other job boards like remote.co, where our SEO Strategist hire initially spotted the role.
Step 3: Create Interview Plan
Once we had the Scorecards filled in and the job posted, we moved ahead to clarify the interview process and each team member's role in evaluating candidates.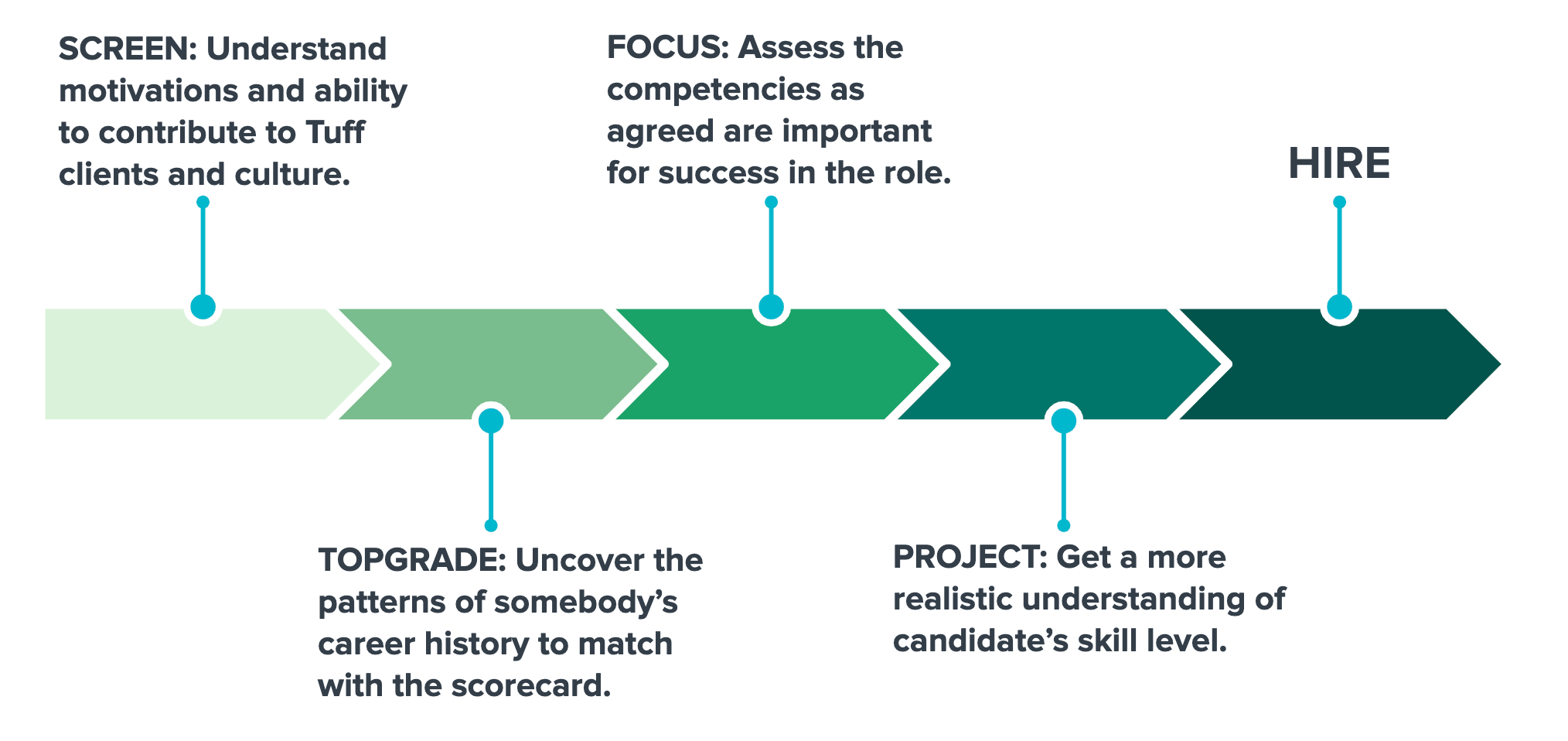 Step 4: Phone Screens
Goal: Understand motivations and ability to contribute to Tuff client's + culture. Mary held the resume and phone screens to help save the Tuff team time by qualifying candidates at the early stage.
Here are the questions we asked for the SEO Strategist phone screens:
What are your career goals? What would your ideal role look like in the next 2-3 years?
What are you really good at when it comes to SEO?
What are 1-2 areas you think you could improve?
Tell me about the most structured and then least structured workplace you've been a part of. How did you feel about them?
Think of someone you have worked really well with in the past. What characteristics, values, or skills did you learn from them and try to replicate?
Step 5: Topgrade Interviews
Goal: Uncover the patterns of somebody's career history to match with the scorecard.
For candidates who made it through the Phone Screen, we had them speak with me (Founder of Tuff), next. I asked the following five questions for each job on the candidates resume, beginning with the earliest and working your way forward to the present day. Follow-up questions and curiosity are key to keeping this interview conversational.
What were you hired to do?
What 2-3 accomplishments are you most proud of?
What were some low points during that job?
Who were the people you worked with? Specifically:

Your manager: what was it like working with them? What would they tell me were your biggest strengths and areas for improvement?
Your team: what did it look like? What worked well? What was challenging?

Why did you leave?
Step 6: Focus Interviews
Goal: Assess the competencies we've agreed are important for success in the role.
As you may have noticed on our funnel metric breakdowns above, we skipped the Focus Interview at times to prioritize speed. These interviews were assigned to Chris and Nate, the other two existing team members at Tuff. These interviews were focused on competencies and attributes the team had identified were important for the roles and culture we're building at Tuff.
Step 7: Project
Goal: Get a more in-depth understanding of the candidate's skills.
Here's the project we shared with our Growth Marketer candidates:
We didn't want the project to be too time consuming so set the expectation to spend no more than 3 hours on the project. P.S. Snacks is also not a client of Tuff. We wanted to make sure we weren't asking someone to do work that a Tuff team member would be paid for. So, this is an example of work they'd be doing if they joined the team but it isn't work Tuff would gain monetary value from.
Step 8: Hire
We did it! Through this process, we were able to find and get to know two great candidates who have now joined the Tuff team.
Sources
Tuff's new team members came from two sources:
The person we hired for the Growth Marketer role was a LinkedIn connection of mine on LinkedIn. He reached out to me after spotting the role and we entered him into the interview process, uploading his resume into our Applicant Tracking System.
The person we hired for the SEO Strategist role applied through remote.co.
For more context on what sources were stronger for us, here are two charts below. The first shows Applications by source – you can see LinkedIn brought in the majority of our applications.
This chart shows Interviews by source. These are the people who after we screened their resume, we decided to talk to. Again, LinkedIn is at the top of the list.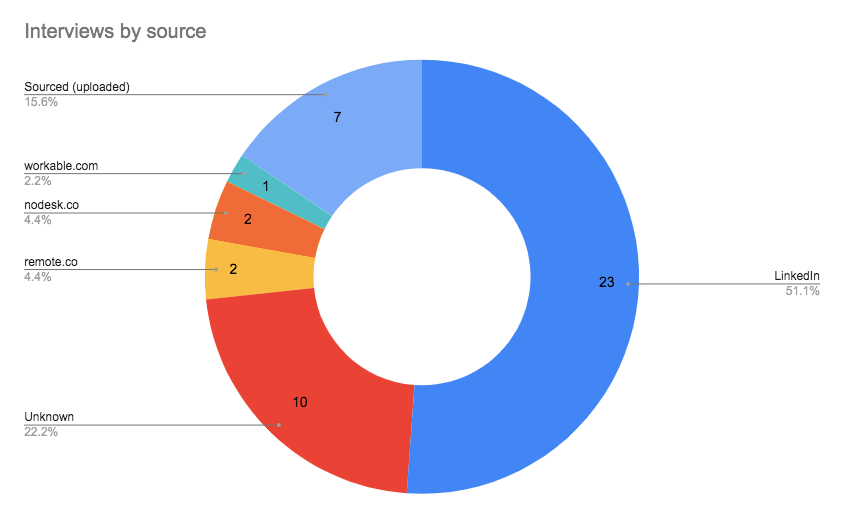 Conclusion
We learned so much as a team and with Intention Consulting while hiring for these roles. As a growth marketing agency, the team has a natural inclination for numbers and conversion rates that made our collaboration stronger and more successful. Workable's own hiring solution helped hugely as well.