Tips for bulk resume uploading to your candidate database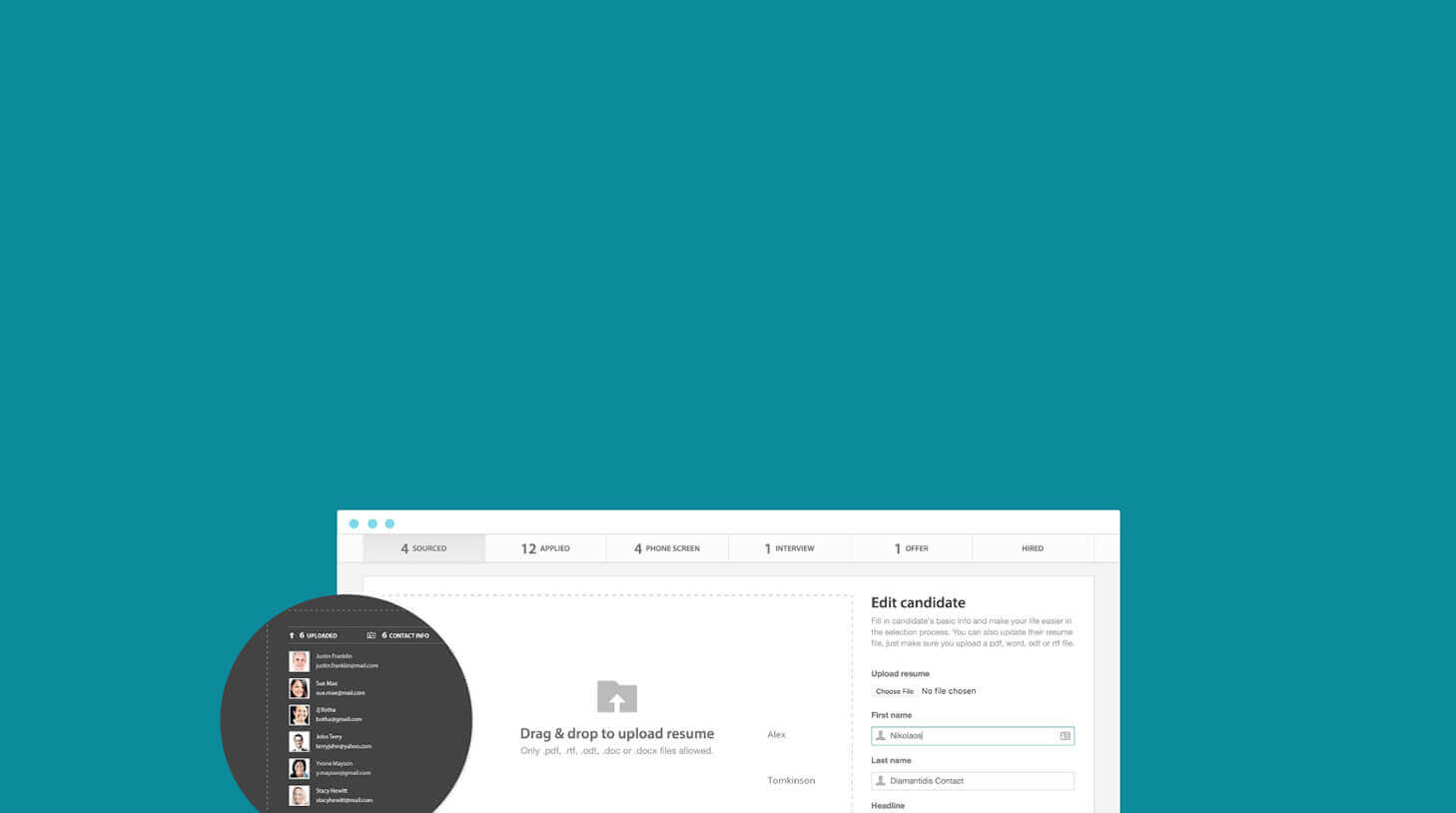 True, most job seekers have profiles in places like LinkedIn or Indeed. And smart hiring teams use recruiting software like Workable to build a fully-searchable, resume database out of the rich, structured data found online.
But there are always those elusive candidate resumes that have slipped through the online net and sunk to the bottom of your offline candidate database. You know the kind of thing…
The folder of PDF resumes you received before using Workable that's sitting on your desktop. A few prospects here and there who don't have a LinkedIn profile. The random candidate who came via an email recommendation with a resume attached. Senior executives slow to adopt new technology.
The bottom line is, you can't go cold turkey on resumes. You'll do the bulk of your recruitment with structured data and online profiles, but you need some backwards compatibility. We know.
Here's where Workable comes in…
Looking for ways to manage your candidate pipeline? Sign up for a 15-day free trial of Workable and start hiring better people, faster.
Taking the data entry out of hiring
Our bulk resume upload tool quickly transfers the valuable candidate data hidden away in emailed PDFs and DOCs directly into your Workable pipeline.
Data from each resume is automatically extracted to create individual candidate profiles. These profiles are added at the 'Sourced' stage of the relevant job in your dashboard (but they can be moved onto any other stage).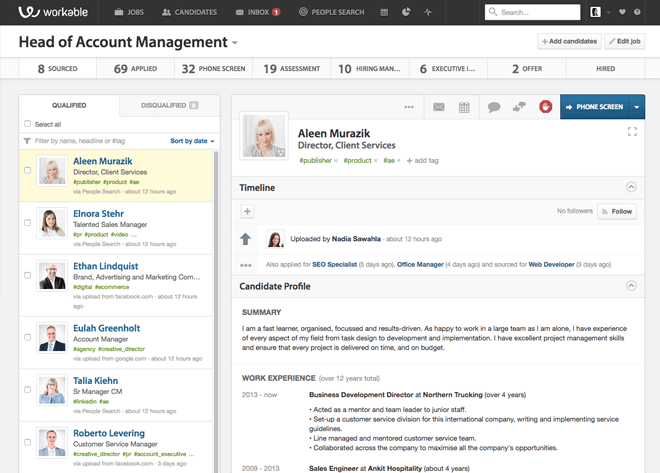 Our resume parser also gathers information from applicants' online profiles to give you the fullest possible picture of each candidate. Scouring the web in seconds, all relevant social and professional data is automatically identified and imported directly into each candidate's Workable profile. An optional feature, you can switch off the social media profile discovery by changing the setting in your recruiting preferences.
With one simple drag and drop into Workable, your offline candidate data becomes fully trackable, searchable and shareable with your team. No data entry required.
How to bulk upload resumes
Find the relevant job on your Workable dashboard (or 'Jobs' tab).
Using the cog icon to the top right of the pipeline, select 'Upload candidates' from the dropdown menu:
From the next window you can either:

select candidate documents using your computer's file browser,
or drag and drop several resumes from your computer into the 'Drag & Drop' window

That's it. Simple. Workable's resume parser does the rest.
Create rich candidate profiles using Workable's resume parser
Our parser scans all of your documents for the following information:
Candidate name
Headline (job title)
Email address and contact information
Summary
Social media account links
Profile picture
When the data is found, it's extracted from the documents and entered directly into the relevant fields in each newly-created candidate profile.
Information imported from the resume and/or from online accounts is highlighted at the bottom of each candidate profile. You can change or add to any of this information by clicking the candidate's name at the top of the page.
Did you know?
– You can upload files in any of the following formats: .pdf, .rtf, .odt, .doc & .docx
– Every email address is cross-checked against your existing candidate database to prevent duplicates.
– If you're new to Workable, you can use our bulk resume upload feature to quickly import positions you had open before you signed up. Just re-create the position within Workable and use the tool to upload the resumes in one go.
– You can import as many candidate resumes as you need. But if you're planning to upload more than 100 files, it's best to do it in batches of 100. If you have thousands of files to upload, contact us to arrange a managed migration.
– You can add custom fields to candidate profiles. Contact us to find out more.