How to launch your first ever HR podcast
An HR podcast is an audio program that focuses on topics related to human resources. It offers insights, discussions, and expert opinions on various HR matters such as recruitment, employee engagement, training, benefits, and workplace culture. Listeners can access episodes online or through podcast apps.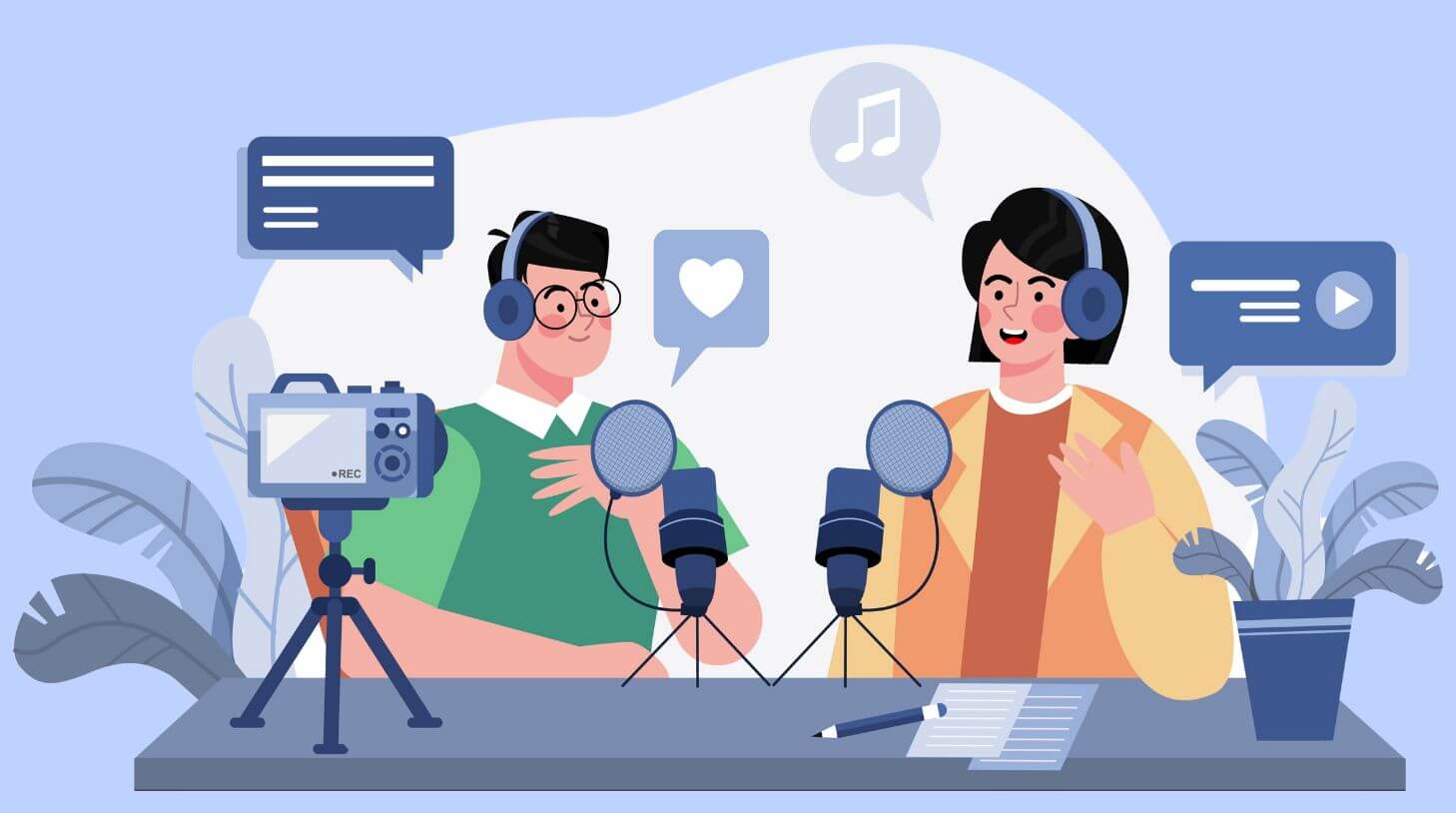 HR podcasts provide a convenient platform for HR professionals and business leaders to stay updated on the latest trends, best practices, and innovations in the human resources field.
By featuring expert interviews, case studies, and discussions, these podcasts offer valuable insights and practical advice, aiding in the continuous development and enhancement of HR strategies.
If this is your first time in the podcast world, this insightful guide is for you to start your own podcast.
What are podcasts?
Podcasts are a collection of audio programs usually gathered in large streaming applications like Apple Podcasts, Spotify Podcasts, Google Podcasts (to be part of Youtube Music in 2024), etc. You can easily explore, download and listen at your own convenience.
It's like the Netflix of radio. You can listen to podcasts while driving, at work, at home, during workouts, and practically anywhere. There's a saying: "If you can Google it, there's a podcast about it."
For the tech-savvy, a podcast is defined as a digital audio file available on the internet for download to a computer or portable device, typically available on demand, and its updates can be automatically received by subscribers.
Podcasting began primarily as an independent way for individuals to convey their message and create a community of like-minded people, similar to the logic behind social media. This still holds true, but today it has been integrated into more sectors due to its recognized value.
You can find individual podcasts, corporate podcasts, radio podcasts, TV station podcasts, fiction podcasts, podcasts by actors, comedians, narrators, religious podcasts, and many more. There's no predefined length, format, style, production level, or any other constraint.
A podcast is essentially a series of audio episodes. These episodes are audio files stored on a podcast hosting company.
Another great thing about podcasts is that you can subscribe to them for free, making it easy to get notifications (via your favorite podcast app) when new episodes are released. As of September 2023, there are currently 3.02 million podcasts.

Why should you create your own HR podcast?
If you aim to promote your business a step further, or if you simply wish to share your ideas in Human Resources with a dedicated audience, then you already know the answer. But here are some benefits of creating your own podcast:
You don't need to be a renowned content creator or have a blog to become a successful podcaster
A podcast is an excellent way to build an audience from scratch and establish yourself as an authority in your field, sharing your knowledge and perspectives
Podcasts are gaining traction worldwide because they're easily consumable
Most podcasts are free. You have the freedom to produce them, and your listeners have the freedom to tune in.
One of the best aspects of podcasting is the close connection you forge with your audience. Your listeners will spend 30 minutes or more with you at a time of their choosing. In today's era, where social media has captured all our attention, this level of engagement is quite rare, allowing you to delve deep into the topics you choose
Search for your podcast's topic
Choosing the best HR topic depends on your objectives, audience, and the current needs or challenges of your organization or industry. Here's a step-by-step guide to help you make an informed decision:
1. Identify your objective
Are you looking to educate, inform, address a specific challenge, or drive organizational change? Your objective will guide your topic selection.
2. Know your audience
Understand who you're addressing. Are they entry-level employees, managers, C-suite executives, potential clients or other HR pros? Different audiences have different needs and interests.
3. Assess current challenges
What are the pressing issues in your organization or industry? Topics addressing these challenges will be more relevant and engaging.
4. Stay updated
Keep abreast of global HR trends, emerging technologies, and changes in labor laws. This will help you choose topics that are timely and relevant.
5. Feedback and surveys
Regularly gather feedback from your audience. Surveys can help identify areas of interest or concern.
6. Analyze data
Use HR analytics and metrics to identify areas that need attention. For instance, if employee turnover is high, topics related to retention strategies might be pertinent.
7. Consider expertise
If you're bringing in external speakers or HR experts, consider their specific areas of expertise and how it aligns with your audience's needs.
8. Diversity of topics
Ensure a mix of strategic, operational, and soft-skill topics to cater to a broad spectrum of interests.
9. Relevance to business goal
Choose topics that align with the company's broader objectives. For instance, if the company is expanding globally, topics related to managing diverse teams or global HR practices might be apt.
10. Review past content
If you've covered HR topics before, assess which ones were well-received and why. This can give insights into audience preferences.
What equipment do you need for your first HR podcast?
You've decided on your topic, you've prepared a script to guide you during recording, and now you need to choose the right equipment.
The options for equipment are countless, as you can imagine, and it depends on the budget you've set.
The most easy-to-use equipment is already in your pocket, your mobile phone. Most mobile phones nowadays support very good recording quality.
You should be in a very quiet place and make sure to speak directly to the source but please… not too close. Maintain a distance of about a palm's length to avoid problems with the sound. In the end, transfer the file to your computer for editing.
The next best option, and the one we recommend for beginners, is a USB microphone, which you can connect either to your computer, laptop, or even your mobile with the appropriate adapter.
Choose a cardioid microphone, which absorbs more sound from the front while limiting sounds coming from behind it.
The third option you have is to invest in a professional microphone with XLR connectivity. This type allows you to connect it to a mixer, which you also need to purchase, offering real-time intervention capabilities.
You can also connect a second microphone to the mixer and conduct live interviews.
Interviews are easier with a mixer, but you can do the same job with USB microphones.
The difference is that XLR-connected microphones offer better sound quality and performance.
How do you record and edit your podcast?
The best way to have control over your recording is to use a good software that will also give you the ability to further edit, such as increasing or decreasing the sound, cutting, adding music, etc.
There are very good programs in the field, some more demanding and some easier. If you want to invest in a subscription program, you can check out Adobe Audition, while if you're looking for an easy and free solution, you can check out Audacity. There are very helpful videos available for all of them that can train you to use the basic tools useful for your podcast.
If you need to have the best sound quality by exporting your file in .wav format, you may not be able to upload it to the Host that will distribute your podcast to streaming applications as they all set a limit on the file size, whether you are on a paid plan or free.
Therefore, it might be wiser if your .wav is not accepted to go directly to .mp3, which is a compressed sound format, but will slightly affect the quality.
How do you upload your podcast?
And then comes this wonderful moment when, after creating the first episode of your show, you need to find a way to upload it.
You don't need to manually upload your podcast to each of the dozens of streaming platforms out there.
A host can do it for you and take care of distributing it to streaming apps. When choosing a host, you have many options.
There are many hosts – with free plans – to help you distribute your podcast. We can mention Spreaker, Anchor/Spotify, and Buzzsprout.
As your podcast grows, you may need to upgrade your plan on these applications and may need to pay a monthly subscription.
What is an RSS Feed?
There are two ways someone can listen to your episodes. The first is from your RSS Feed. The second is from a streaming application (Apple Podcasts, Google Podcasts, Spotify, etc.) where you will also need to indicate your RSS Feed to be able to claim them and have access to statistics, followers, and other useful information.
So, what is an RSS Feed in simple terms?
An RSS Feed is a tool that provides updates from websites, including new podcast episodes. For podcasts, the RSS Feed contains essential details like the title, description, and episode links. Streaming platforms like Spotify and Apple Podcasts use this feed to automatically update your content.
Instead of manually creating an RSS Feed, which can be complex, many podcast hosting platforms like Spotify/Anchor and Buzzsprout automatically generate one for you. If you host your podcast on your website, you can create a local RSS Feed, though it's not recommended for beginners.
How do I promote my HR podcast?
Most Hosts will create a webpage for you with the basic information about your podcast and will automatically add the streaming platforms where your show is available.
This webpage could be your mini site to promote it on social media.
In general, there are dozens of things you can do to promote your podcast. Let's look at a few for starters:
If you have the capability, create your own site or a new subdomain for your podcast where all your work will be organized, and the way someone can listen to you.
In the beginning, to start having listeners, rely on your own HR network. Share your episodes on your social media accounts (Facebook, Twitter, LinkedIn, TikTok) so that those interested can listen to your shows.
Create pages or profiles for your podcast, which you will update frequently (the frequency varies, but you can schedule 2-3 posts a week regardless of whether you release a new episode).
A post could be the announcement of your new episode, an audio snippet, or a quote you can highlight from your show.
Use Canva to create visually appealing covers for your show and for each episode separately. You can get ideas for posts through the ready-made templates it offers.
Network with others who do the same subject. Follow their podcasts and declare your presence on their profiles to have the opportunity to be promoted to new audiences.
Create a nice trailer that you will select from the host as the show's trailer and will appear higher compared to your new episodes.
Pay attention to the vocabulary you use. Choose keywords that accurately describe your subject matter and philosophy and make sure to repeat them in the descriptions of the episodes and your posts.
Write short texts that arise from the interviews or what you say in your Podcast and promote them on blogs asking to keep the link to your podcast.
Contact online list owners with top podcasts and ask them to listen to your work.
Of course, maintain a regular frequency in publishing your episodes to increase your credibility with your listeners.
Now you have the info you need to get started on creating a successful HR podcast. If you have a team, it may be faster to execute all the steps, but you can manage the whole process alone as well.
The best advice here is obvious: just begin and learn as you go.
Happy podcasting!
Frequently asked questions
What is a podcast?

A podcast is a digital audio file series available online. Like radio, but on-demand, listeners can download or stream episodes.
Why should I start an HR podcast?

An HR podcast helps share expertise, establish authority in the HR field, connect deeply with an audience, and address current HR challenges.
What equipment do I need for podcasting?

Start with a mobile phone or invest in a USB or XLR microphone. Ensure a quiet recording environment and consider using editing software.
How do I distribute my podcast?

Use podcast hosting platforms like Anchor, Spreaker, or Buzzsprout. They'll provide an RSS feed and distribute your content to major streaming platforms.
How can I effectively promote my HR podcast?

Leverage social media, create engaging content, network with fellow podcasters, and maintain a consistent episode release schedule.