It should be simple. Now it's Workable.
The Workable concept was born out of our frustration with the way hiring works in most modern companies.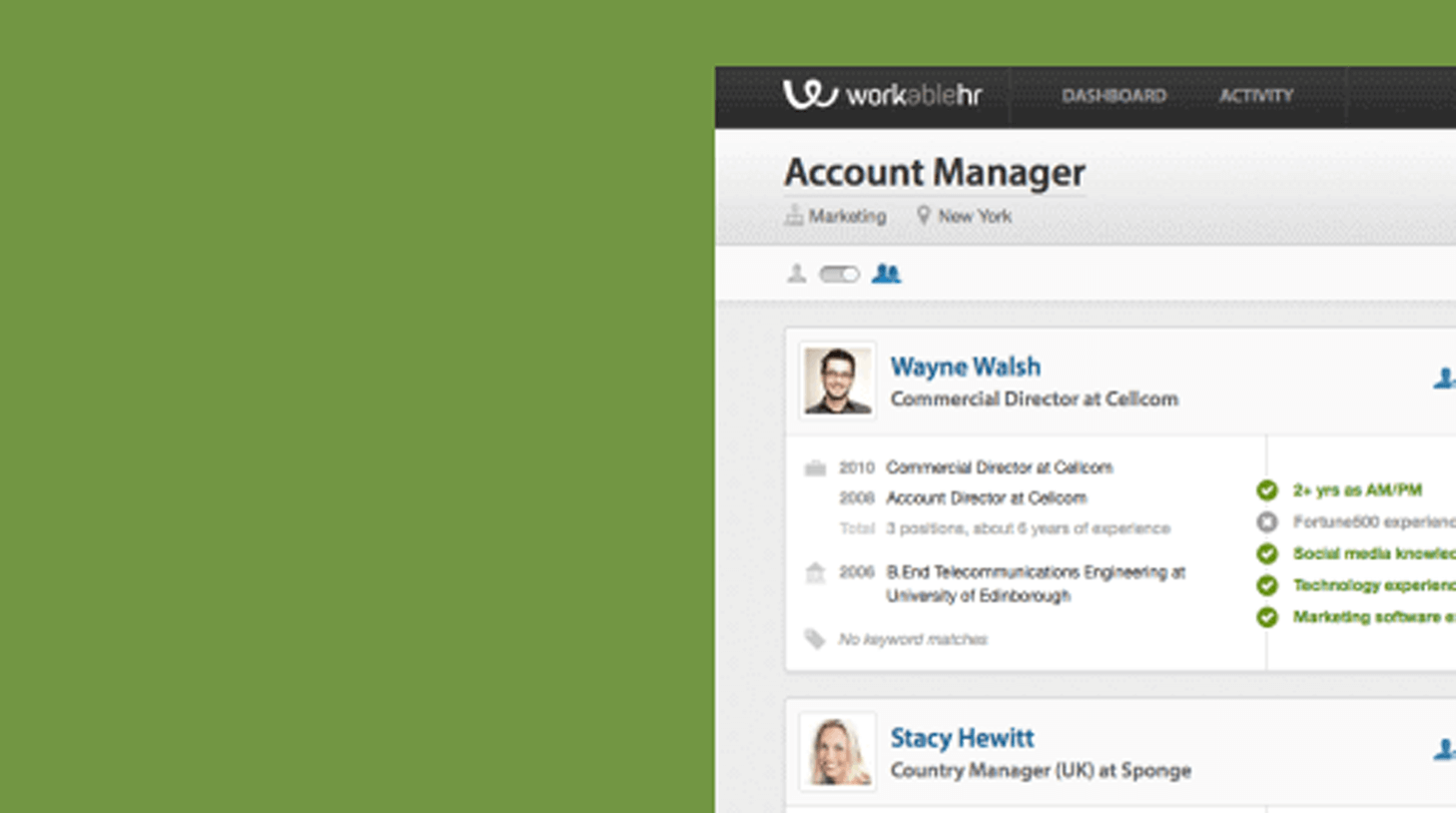 Here's a challenge: walk around a contemporary office and spot the one thing that dates back to the fifties. It's the resumé. If it's not sitting in a stack of papers with hundreds of its friends, it's in your email, dutifully converted in PDF, preserving the unstructured form of its paper ancestors. Hard to decipher, even harder to compare with other resumés, each carrying the stylistic creativity of its author.
Its purpose, to communicate the facts about a person's qualifications and experience, is already being served much better by LinkedIn profiles or online application forms. But strangely enough, the tools we use for hiring are little more than a fancy process for moving resumés around. In some companies it's email, attachments and the dreaded excel file. In others you'll find "hiring solutions" that look a lot like a resumé database with a smattering of workflow management in the mix.
Choosing the right person for your team can be a fascinating exercise. But most of the time we put into it ends up being wasted into managing the process and shuffling through information that's poorly presented. It should be spent reviewing facts and making informed decisions. If you remove the tedium, hiring would be easier, quicker and smarter, because you'd focus on what matters.
We spent over 5 years hiring dozens of people for a fast-growing company. Hiring became our second job. We tried everything from email to advanced hiring software. We still haven't found an applicant tracking system that focuses on simplifying the most time-consuming task: browsing, screening and managing candidates.
So we built our own.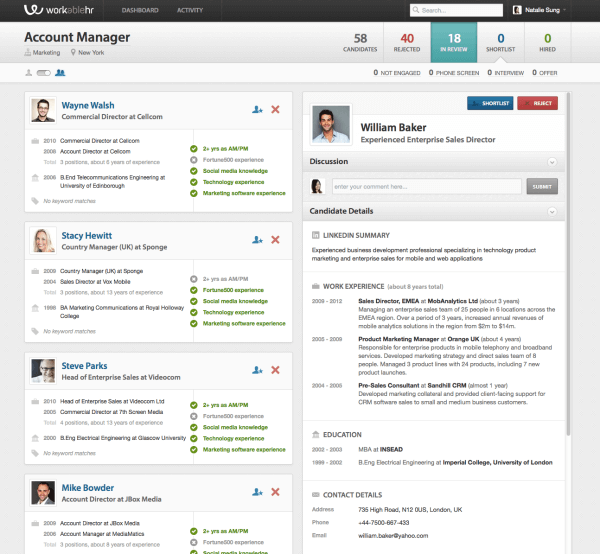 Everything you need. Nothing you don't.
We put a premium on simplicity, choosing the features that matter the most. Precisely because we're not trying to be everything to every company, we can afford to skip the complexity of too many options and too many features that most companies don't need.
We put all our focus on finding the right candidate. The hard part of hiring ought to be choosing the best candidate from a good shortlist instead of building that shortlist in the first place. Workable will help you spend more time with your shortlist candidates and less time screening the ones you don't need.
We believe that efficient communication can replace complex workflows, so we built a tool that allows you to easily collaborate with comments and notifications, concepts that any Facebook user is already familiar with.
We know that hiring is a second job for most people involved in it, so we made an interface that's easy to use and good looking – so it feels a little bit less like work.
We are convinced that hiring should be simple. We made it Workable.