Post jobs to multiple job boards
Getting better exposure for your jobs is important to your business. We know. Free job boards can be a very effective way to attract talent, but it can be challenging to post jobs to multiple job boards at once, which is what you need to do to make the most of it.
We've been working behind the scenes to simplify the task of getting results from free job sites, and today we're ready to break the good news:
Automated posting to 6 major free job boards
Workable has partnered with Indeed, SimplyHired, Glassdoor, Trovit, JobRapido and Recruit.net to allow you to post jobs to multiple free job boards and easily reach a global audience of hundreds of millions job seekers performing billions of job searches per month.
Starting today, as soon as you open a new job position in Workable, it will also be automatically published on all the above 6 free job boards where millions of potential job seekers can find it. How?
With one click. For free.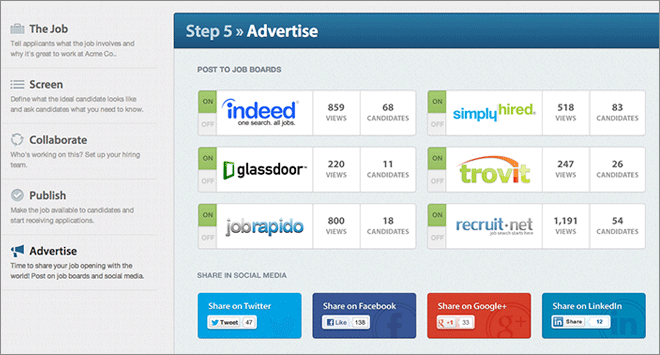 Single-submission posting on the top two job sites in the world for all your jobs. Simple as that. Oh, and did we mention it's free?
Can't wait? Post your first job now.