How to find HR Directors with Boolean search strings
To hire HR Directors, recruiters can use Boolean search logic in Google to enhance their pipeline with relevant resumes and profiles. We created a number of sample search strings that you can experiment with.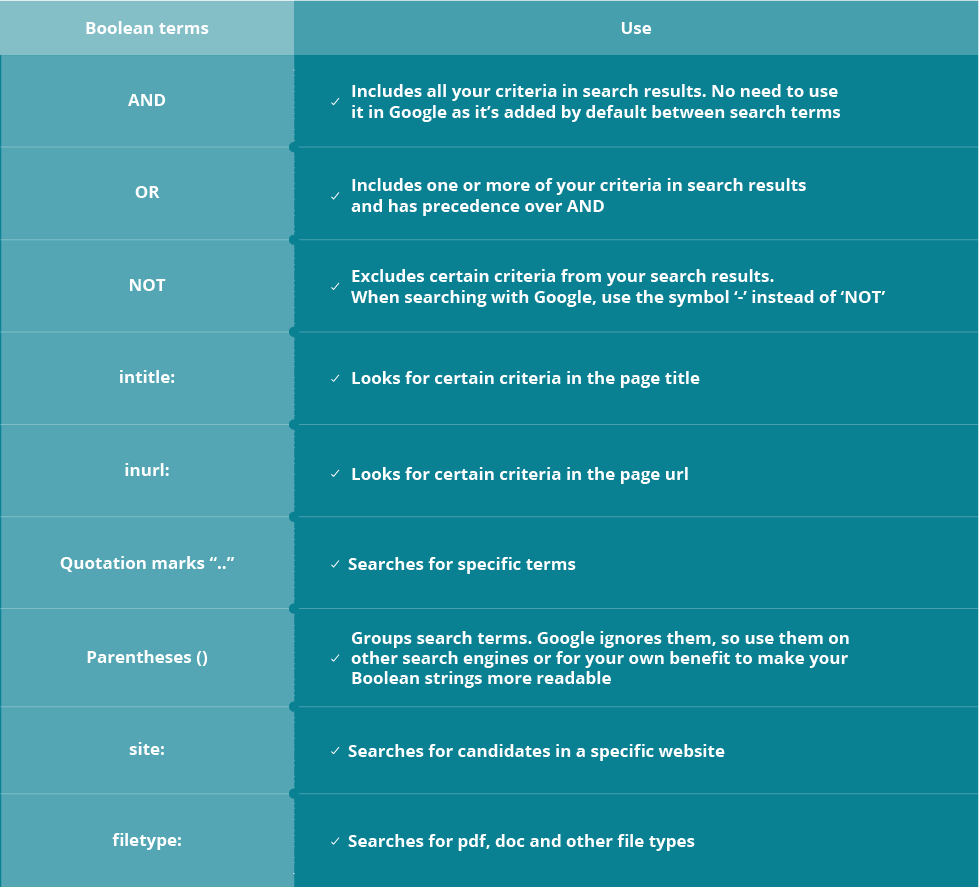 Generic search string to find HR Directors
These search strings target pages that contain the word "resume" (or variations like "cv" and "bio") in the page title or page url. To achieve this, use the intitle: and inurl: operators. Here's an example:
(intitle:resume OR inurl:resume) ("HR" OR "Human Resources Director") -job -jobs -sample -templates -examples
The NOT (-) operator helps you avoid irrelevant results by excluding certain terms.
Keep in mind that candidates who are qualified for an HR Director position may have a wide range of titles, like "HR Manager," "VP of Human Resources," "Talent Acquisition Manager" or "People Operations Manager." Experiment with these titles to discover a larger number of candidates.

Searching for profiles of HR Directors
Search for profiles on specific sites through Google by including the site: operator and terms found exclusively on member profiles. HR Director candidates may be active in social media including communities like Quora and Meetup.com. For example:
site:meetup.com "HR director" "member since"
site:quora.com ("HR director" OR "HR Manager") "credentials & highlights"
Add more criteria in your search to find profiles that better match your requirements.
When sourcing EU candidates, please refer to guidance on using social media for recruiting and collecting candidate information as per the General Data Protection Regulation, or GDPR.
Example Boolean search strings to find HR Directors who work in various roles
Find HR Directors who:
Have worked in consulting
(intitle:resume OR inurl:resume) "HR director" (consultancy OR "consulting firm") -job -jobs -sample -templates
Have a background in a specific industry
(intitle:resume OR inurl:resume) "HR director" (medical OR hospital OR health) -job -jobs -sample
(intitle:resume OR inurl:resume) "HR director" (marketing OR advertising) -job -jobs -examples -templates -sample
Have worked at startups
(intitle:resume OR inurl:resume) "HR director" startup -job -jobs -examples -templates -sample
Possess a graduate degree
(intitle:resume OR inurl:resume) "HR director" (MBA OR Master) -job -jobs -sample -templates
Are certified
(intitle:resume OR inurl:resume) "HR director" (SHRM-SCP OR SPHR) -job -jobs -template -sample -examples
Are familiar with strategic planning and labor relations
(intitle:resume OR inurl:resume) "HR director" ("strategic planning" OR "labor relations") -job -jobs -template -sample -examples
Have experience with cost reduction
(intitle:resume OR inurl:resume) "HR director" "cost reduction" -job -jobs -template -sample -examples
Example Boolean search strings to find HR Directors by location
By state and city:
(intitle:resume OR inurl:resume) "HR director" (California OR CA) -job -jobs -sample -templates -service -inurl:tag
(intitle:resume OR inurl:resume) "HR director" Philadelphia PA -job -jobs -sample -examples -templates