Sep-2023
Video interview tips for candidates
"We're really impressed with your resume and would like to get to meet you and discuss the role in detail. Are you available for a video interview next Monday at 10 a.m.?"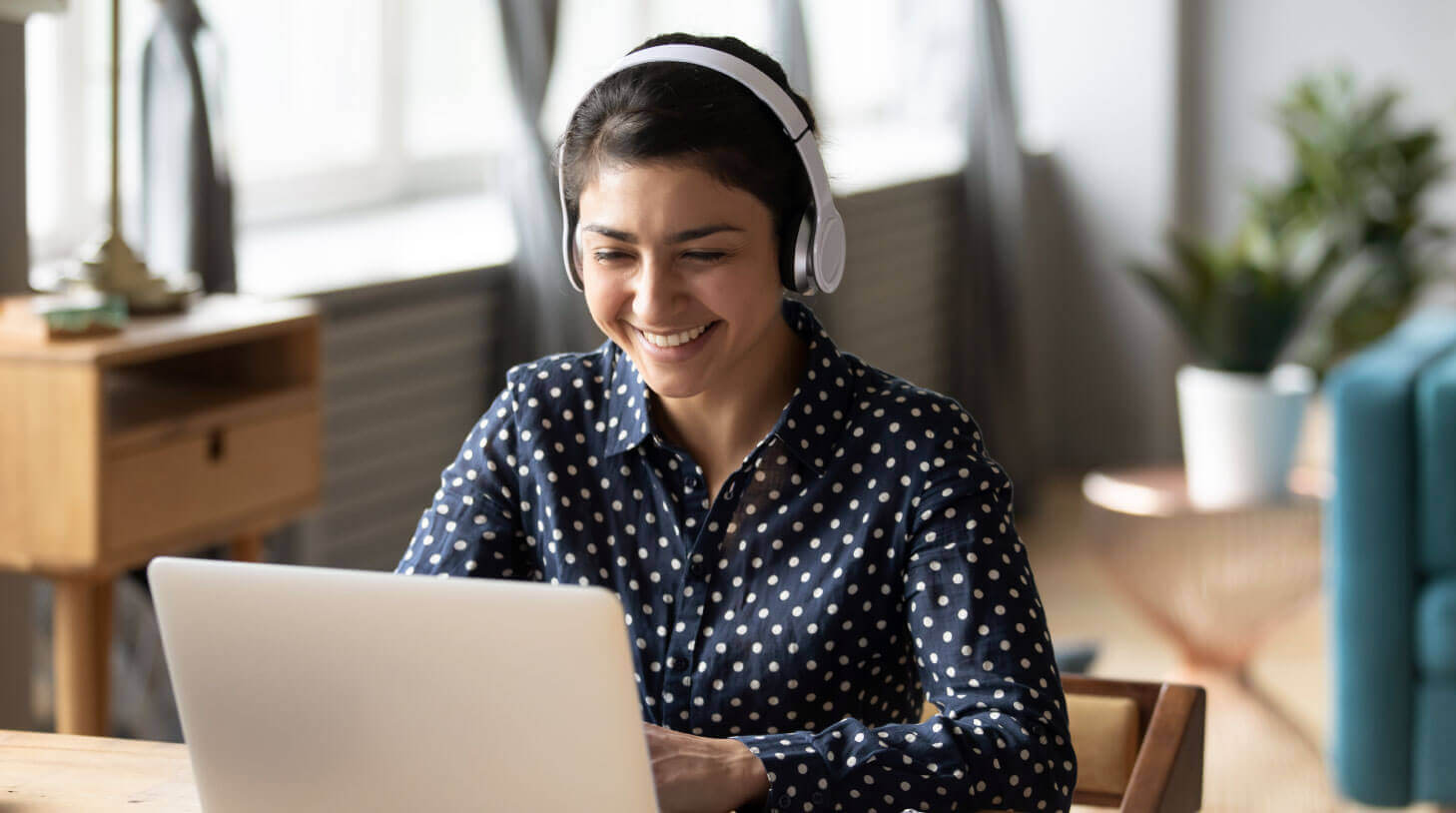 Great, the company where you applied for your dream job about a week ago just replied and wants to schedule a… wait, what? Did they say "video interview"?
Video interviews are becoming a popular method among companies that want to evaluate candidates remotely. And there are benefits for you, as a candidate, too; you cut back on commute costs and time and you get the chance to interview at – and work for – a company that's across the world. So you'd better rock this video interview.
While it's not so different from the ol' in-person interview, there are some nuances you need to keep in mind if you want to shine during a video interview. Let's take it step-by-step and see how you can best showcase your skills when interacting with potential employers online:
Just (don't) hit the "rec" button
First, make sure you have all the proper equipment in place. And what does that involve? Your computer, a webcam and a microphone. Your computer might already have an in-app camera and/or mic, which could work for you in this case. You might also want to use headphones to block noises. If you're lacking any of this equipment, consider borrowing from a friend or going to a local library, community center or coworking space; they may offer some private offices along with equipment that you can use for your interview.
Then, you need the appropriate video software. Depending on how the company is conducting video interviews, you may or may not have to install a tool on your computer, e.g. Skype. Check the video interview invitation email they sent you; you'll most likely find some information there, for example, a link that you can follow to join the video call. Click that to see how it works because if you need to download an app, it might take some time and you don't want to do that a couple of minutes before the interview. If you're in doubt, don't hesitate to reach out to the recruiter or hiring manager you're talking to and ask for clarification.
Once you have your hardware and software ready, it's time to run some tests. Here's how to have a tech run-through:
Have a sound, microphone and camera check. It's useful to record something to see how you look and sound and whether you need to make some adjustments. (For example, if the microphone is too close to your mouth, it can cause audio spikes.)
Place the camera at eye level. This way, you can maintain eye contact with your interviewers.
Check your internet connection. Poor signal could cause interruptions and miscommunication. If you're using a wifi connection, try moving your devices closer to the router and if there are other devices and users connected, ensure they don't take up much bandwidth during your interview.
Close unnecessary tabs and applications. They may slow down your connection – and also become a distraction – so it's best to keep open only when you absolutely need, e.g. the video interview platform and your online portfolio.
Charge up your devices. Before the interview, ensure your computer and the rest of equipment you'll be using are fully charged or plugged in – keep in mind that video calls tend to drain computers' batteries much faster compared with regular use.
Set the stage
When recording a video interview or having a live video call with your potential employer, be mindful of the background, be it visual or audial. If you choose, for example, to have the interview at a busy cafe, noises will distract you and your interviewers. Likewise, laying on your couch with your pajamas and your laptop on your knees doesn't exactly project yourself as professional.
Here are some tips that will help interviewers focus on what you're saying as opposed to what's going on around you:
Choose a quiet room. If you're living with family or roommates, let them know about your interview and coordinate accordingly so that there are no interruptions or noises during that time.
Find a well-lit place. Opt for natural lighting facing you; don't have the light on your back. If that's not possible, put a lamp behind your camera or use your mobile's flashlight to lighten up your face.
Pick the proper attire. This doesn't just refer to business or business casual wear; it's also about picking colors that read well on camera. Avoid busy patterns and the color white. Test what works with your background, too.
Mute notifications. Before the interview, remember to put your phone on silent mode and turn off notifications on your computer. A message or pop-up could easily disrupt the flow of the interview.
It's dress rehearsal time
Once you've tackled technical requirements and set up your space, prepare yourself for the video interview, just like you would if it was a traditional face-to-face interview. This means, researching the company, refreshing your memory about your skills and work experiences, and practicing your answers to common interview questions.
However, speaking in front of a screen could raise your stress levels. Here's how to feel more comfortable:
Practice, then practice some more. Record yourself talking or even have some video calls with friends who can give you feedback. As you get used to the idea of "speaking to your computer", you'll sound more confident and more natural.
Don't forget about body language. Just because interviewers can mostly see your face, it doesn't mean that you can't use body language to your benefit. Smile, nod, make hand gestures if that helps your flow and look away for a couple of seconds when you want to think.
Think about potential interview questions. In one-way video interviews, you might know the questions beforehand. This means you have some time to prepare your answers or even record different takes and pick the best. If it's a live video interview, you might have an idea of what you'll discuss (depending on who you're talking to) so you can write down a few key points that you want to mention.
Ready, set, action!
It's time for the interview – a few minutes before the meeting and after you've tested your equipment, turn your notifications off, sit comfortably, take a deep breath and when you're ready, click "Rec" or "Join".
Since you've prepared adequately, all should go well. But some things can go wrong during a video interview – not all of it your fault. Because technology can be a fickle beast at times, be sure to have quick troubleshooting tips at the ready.
'Can we reshoot that?'
For example, poor connection or poor audio quality could be distracting. And while you can't predict everything, here's what to do in case you face some technical or other hiccups:
Restart the software or your computer. There's a reason why "Have you tried turning this off and on again?" is a popular IT trick; it's because it often works. If you face technical difficulties, try signing off for a few minutes and restarting your devices to see if that helps.
Have an alternative solution in place. Be ready to switch to another device if needed, e.g. a tablet or your phone – smartphones usually have good cameras so quality shouldn't be an issue. To do so, you'll need to have the appropriate software (Skype, Google Hangouts, etc.) installed. If you use your phone, try to keep it in a stable position and in the landscape view.
Keep the interviewers' contact details handy. You might want to quickly let them know that you face some temporary technical difficulties or that you'd rather reschedule. Don't leave them waiting, though – drop them a quick email or call them to coordinate.
Ask for clarification. Don't hesitate to ask interviewers to repeat something if you're not sure. You don't want to risk giving a poor answer because you didn't hear the question properly.
Mostly, don't be harsh on yourself. You might be stressed at first, feel weird seeing yourself on the screen or stumble over your words, but focus on why you're doing that: it's all about presenting your skills and finding out if this role is a good fit for you.
Good luck!
If you have a video interview through Workable, check these useful resources on how to prepare yourself and how to troubleshoot various tech issues.