Best practices in self-ID data for DEI from Workable & LGBT Great
Boost your DEI strategy with self-ID data best practices on Nov. 8, 2023 in an event hosted by Workable and LGBT Great. Register now to get your seat!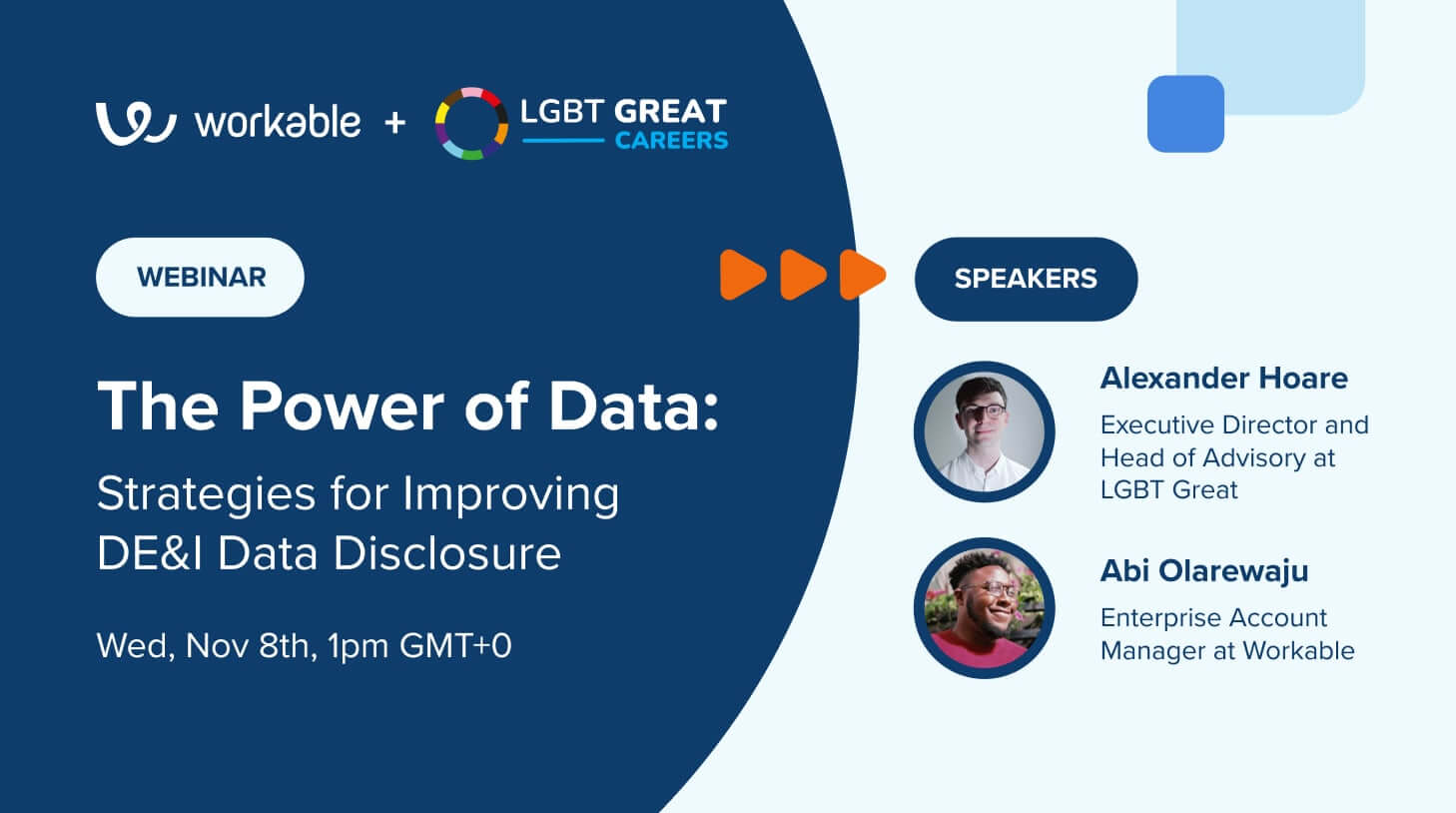 We're now living in a world where data has become the lifeblood of organizations. But when it comes to DEI, not just any data will suffice. It's essential to capture, analyze, and use diversity data to make informed decisions in all people operations so you can pursue – and make progress – in your DEI workplace strategy.
In that spirit, Workable is joining forces with LGBT Great to co-host an exclusive online event to take a deep dive in this area – titled The Power of Data: Strategies for Improving DE&I Data Disclosure. It takes place on Nov. 8, 2023 at 1 pm BST (8 am ET).
The theme
In the event, we'll delve deep into strategies that enhance confidence around self-ID data in organizations. The financial sector, particularly, has its unique challenges, but also its innovative solutions.
In this event, you'll learn about the best practices adopted by leading institutions and how LGBT Great Careers is revolutionizing the space for LGBTQ+ talent and allies.
The attendees
You should attend if you are one of the following:
An HR and talent professional in the global finance arena
A customer of Workable
A member of LGBT Great
A professional with an interest in data disclosure
This is an opportunity to explore the question of why data disclosure – and self-ID data – is so crucial in today's work climate. You'll get ideas and inspiration from the hosts on enhancing best practices in this area, and learn first-hand experiences to drive your own success story.
The agenda
In this event you will:
Understand why it is important to capture, disclose, analyze and use diversity data in decision-making for all people operations
Take home some great ideas and inspiration on how to improve data disclosure across people operations
Learn from the success of other companies in the space
Speakers will address the following questions:
How do you capture accurate data on employee populations?
How do you ensure trustworthiness in this data collection?
Once captured, how can organizations leverage this data for constructive change?
Don't miss this chance to be part of a game-changing conversation and further your DEI journey. Join LGBT Great and Workable in their quest to create more inclusive workplaces, one data point at a time.