Internal promotion announcement email
Use this email template to inform your employees about an internal promotion or transfer. An HR team member or the hiring manager can send this email to: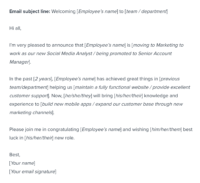 Internal promotion is a testament to an organization's commitment to nurturing and recognizing the talents and skills of its existing workforce. By promoting from within, companies send a powerful message about the importance of employee growth, loyalty, and the opportunities available for those who consistently demonstrate excellence. This not only boosts morale but also fosters a culture where employees are motivated to excel, knowing that their hard work and dedication will be rewarded.
Furthermore, internal promotions are beneficial from a strategic standpoint. Employees who have been with the company for some time possess a deep understanding of its culture, values, and operations. When they ascend to higher roles, they bring with them this institutional knowledge, ensuring continuity and reducing the learning curve often associated with external hires. This can lead to smoother transitions, more effective leadership, and ultimately, enhanced organizational efficiency.
What should be included in an internal promotion announcement email?
An internal promotion email should clearly communicate the key details of the promotion while celebrating the individual's achievements. It should include the name of the employee being promoted, their new title or position, a brief overview of their contributions that led to the promotion, and the effective date of the change. Additionally, it's essential to express gratitude for the employee's dedication and hard work, and to convey excitement about their new role.
Encouraging colleagues to extend their congratulations can also foster a positive and supportive work environment. The email might also provide context on any resulting team or departmental changes, ensuring transparency and clarity for all staff members. In conclusion, you should:
Inform staff about the transfer or promotion, so that they're all aware of the employee's new role and responsibilities.
Share the excitement of seeing colleagues grow within the company and congratulate them on their contribution so far.
Send the message to all employees that your organization supports internal movements and promotions.
Keep this email brief, but make sure to add any important details. For example, if the employee is starting their new job at an office in a different location, mention when they'll be leaving their current office.
Internal promotion announcement email template
Email subject line
Welcoming [Employee's name] to [team / department]
Email body
Hi all,
I'm very pleased to announce that [Employee's name] is [moving to Marketing to work as our new Social Media Analyst / being promoted to Senior Account Manager].
In the past [2 years], [Employee's name] has achieved great things in [previous team/department] helping us [maintain a fully functional website / provide excellent customer support]. Now, [he/she/they] will bring [his/her/their] knowledge and experience to [build new mobile apps / expand our customer base through new marketing channels].
Please join me in congratulating [Employee's name] and wishing [him/her/them] best luck in [his/her/their] new role.
Email sign off
Best,
[Your name]
[Your email signature]
Related resources: